In this edition of People of Vanderbilt, we spotlight Lauren Mindolovich

By Arial Starks
Vanderbilt Business is known across the globe for its high caliber of students, faculty, and staff. In this edition of People of Vanderbilt, we spotlight Master of Marketing student Lauren Mindolovich, who shares a little about herself.
What's your secret talent?

I can pick up line dances pretty fast because I used to be a competitive dancer.
Who or what empowers you at Vanderbilt?
Being able to see where MMark alums have ended up after graduating. This is encouraging to see all the amazing places alumni have ended up because that could be me once I graduate.
What are 1 or 2 experiences that have really shaped your time here at Vanderbilt?

Brand Week was a lot of fun because I was able to combine my design skills that I learned through my undergrad degree and my marketing skills that I've been learning here at Owen. My team ended up placing first for The Graduate Hotels prompt. This was extremely rewarding because I had been looking forward to Brand Week since I had applied to the program.
What's your favorite way to connect with the Vanderbilt community?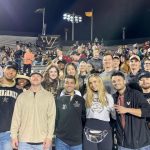 My favorite way to connect with the Owen community is by hanging out outside of the classroom, whether that's going to dinner, sporting event, hike, concert, etc. In addition, one of the clubs I belong to is the Christian Business Association, so it's really nice being able to connect with other Owen students in a non-school setting.
What's something you've learned about yourself during your time at Vanderbilt?

During my time at Owen, I've learned that even though I don't have a strictly marketing/business background, I still add value to this program, bringing my own unique perspective to each project I work on.
Looking back on your time at Vanderbilt, what is one of your favorite memories, activities, or rituals?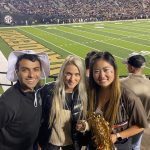 One of my favorite activities was going to the Vanderbilt vs South Carolina football game and tailgate.
Looking forward, what are you most excited about this year?
I'm looking forward to meeting more people in Owen and exploring Nashville.
Are you in a leadership role in association with Vanderbilt? If so, name the organization and title.
I'm one of the Master of Marketing Admissions Ambassadors.