Turner Family Center for Social Ventures and the Wond'ry foster connection, collaboration, and curiosity at the 2023 Social Ventures Summit
By Lacie Blankenship
On February 18, the Turner Family Center for Social Ventures (TFC) hosted the 7th Annual TFC Social Ventures Summit in partnership with the Wond'ry. The Summit was a day-long event held at Vanderbilt's Owen Graduate School of Management.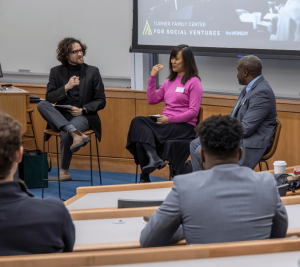 The TFC Social Ventures Summit gathers Vanderbilt students, entrepreneurs, investors, educators, accelerators, policymakers, and other startup champions to meet, collaborate, and co-create. The Summit fosters connection, collaboration, and curiosity through sessions featuring social impact leaders innovating in education, healthcare, and business with local and global impact. 
"The TFC Social Ventures Summit gives attendees a unique chance to learn from and network with people they otherwise would have never interacted with," says Ergisa Bejkollari (MA'23), TFC Summit Board Chair. "There is always a chance for joint projects to come out of the Summit." 
The 2023 theme was "Innovation for Good," with programming focused on ideas, solutions, and people who have made a difference in their fields with innovation. 
The keynote address was given by Sait Mboob (MA'09), Foreign Service Officer, United States Agency for International Development (USAID). Mboob has managed portfolios and programs which support global economic development, with tours in Southeast Asia, Washington D.C., and Senegal.
The schedule was packed with panels on innovation in education, banking, HealthTech, sustainability, communities, and times of crisis. The day also featured a series of sessions on Building Your Social Innovation Toolbox, designed by the Wond'ry for Vanderbilt undergraduates.
Speakers included Bob Corney, Co-Founder and COO, Clearloop, Tracy Detomasi, CEO, Callisto, Hattie Duplechain (ME'16), Director of Learning Experience and Impact Measurement, Innovation Space, Niharika Hanglem, Program Director, Kaplan Institute, David Holmes, Associate Director, S&P Global, Shoshi Kaganovsky, Serial Entrepreneur, Cali Livingstone (MBA'20), Co-Founder and CEO, Type R Partners and Author, Megi Llubani, Research Analyst, MDRC, Ama Marston, Co-Founder and CEO, Type R Partners and Author, Tori Samples, Senior Product Manager, Stellar Development Foundation, Fintech Founder and CTO, and Emily Sheldon, Co-Founder and CEO, African Health Innovation Centre. 
"My favorite part of the Summit is seeing people coming together and sharing their expertise and experiences in different fields," says Bejkollari. "As TFC Summit Board Chair, I learned how supportive and amazing the TFC is."