In this edition of People of Vanderbilt, we spotlight Devon E. Macera
By Arial Starks
Vanderbilt Business is known across the globe for its high caliber of students, faculty, and staff. In this edition of People of Vanderbilt, we spotlight MBA student Devon E. Macera, who shares a little about herself.
What's your secret talent?

I have always had a talent for remembering obscure sports trivia facts, stats, and adages, but I uncovered my axe-throwing abilities at Owen.
Who or what empowers you at Vanderbilt?

Definitely the people! The smaller class size was one of the main things that drew me to Owen and the benefits of this have exceeded my expectations. My classmates are all so generous with their time and are so willing to do anything to help whenever it is needed. It is really empowering to be surrounded by such amazingly generous people.
What are 1 or 2 experiences that have really shaped your time here at Vanderbilt?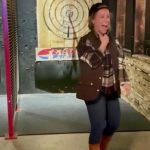 Learning about local nonprofits through the Owen Board Fellows program has been an amazing experience. This program has been eye-opening and showed me how I can take all of the things I have learned in business school and apply them to the benefit of my local community. Being involved in the Owen Women's Business Association (WBA) has also been so meaningful—this community of exceptional women is an amazing support network and is always quick to lend a hand or encouraging word whenever one is needed.
What's your favorite way to connect with the Vanderbilt community?
Randomly running into people in the hallways, lobby, and courtyard—these have definitely been some of the best conversations I've had with my classmates. 
What's something you've learned about yourself during your time at Vanderbilt?
I have learned that I am even more stubborn (in a good way) than I previously thought and that can lead to surprisingly creative solutions.
Looking back on your time at Vanderbilt, what is one of your favorite memories, activities, or rituals?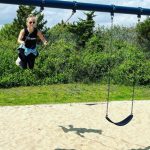 Definitely the football games and tailgates—I loved being able to spend time with classmates outside of the Owen bubble. The WBA has put on some amazing events, but the axe-throwing afternoon was a particular favorite.
Looking forward, what are you most excited about this year?
Getting to fully enjoy the new building with my classmates!
Are you in a leadership role in association with Vanderbilt? If so, name the organization and title.
I serve as the Vice President of Education for the Vanderbilt Business Healthcare Association and as an Owen Board Fellow with the Nashville Symphony Orchestra.