In this edition of People of Vanderbilt, we spotlight Vivek Kakar
By Arial Starks
Vanderbilt Business is known across the globe for its high caliber of students, faculty, and staff. In this edition of People of Vanderbilt, we spotlight Master of Marketing student Vivek Kakar, who shares a little about himself.
What are 1 or 2 experiences that have really shaped your time here at Vanderbilt?

I recently had the chance to attend the ROMBA conference as a member of the Vanderbilt Owen delegation. This experience has shifted the way I am approaching my job search and also the way I think about the intersectionalities between my culture, personal life, and professional life. This conference also helped me to find my community nationwide and at Owen, strengthening friendships with MBAs who are members of the LGBTQ+ community.
What's your favorite way to connect with the Vanderbilt community?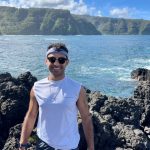 Connecting with alumni has been extremely fruitful and uplifting. I was quickly able to find an amazing alum who is working in the political marketing field and has set me up for success at such an early stage in the program. I was even invited to have dinner with another alum on the occasion of Diwali. It felt so good to know I have family at Owen, especially so many miles away from home.

What's something you've learned about yourself during your time at Vanderbilt?

I have learned so much more about where I am headed in life, especially in a professional setting. I have learned more about what gives me energy and how I can harness my interests and work ethic to be successful in the world leaving Vanderbilt. I have learned so many valuable lessons that have shaped me for the better at Owen.
Looking back on your time at Vanderbilt, what is one of your favorite memories, activities, or rituals?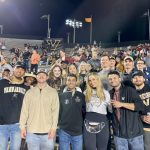 Thus far, the Owen tailgates before our Vanderbilt Football home games have been an exciting way to get to know the community and to partake in some Commodore Pride with the larger campus community. I would be remiss in not mentioning the most notable of the Owen rituals, Closing Bell. I have felt the community come together in such a fun way right outside the door of Management Hall. Closing Bell has been the great equalizer and has allowed me to enhance connections in an invaluable way.
Looking forward, what are you most excited about this year?
I am looking forward to the Digital Marketing Strategy class in Mod 4. With such a strong shift to digital marketing in the market, I am excited to learn more about effective strategies for reaching people where they are. Harnessing a good set of tools to use in the digital realm is a recipe for success as we head into the job market.
Are you in a leadership role in association with Vanderbilt? If so, name the organization and title.
I serve as a Master of Marketing Senator, Owen Student Government Association Student Admissions Coordinator, and a Master of Marketing Program Admissions Ambassador.