Anne Rawlins will be a crucial player in the long-term strategy for Owen alumni engagement and annual giving
By Lacie Blankenship
Anne Rawlins joins Vanderbilt University's Division of Development and Alumni Relations (DAR) as Senior Director of Alumni Engagement and Annual Giving for the Owen Graduate School of Management.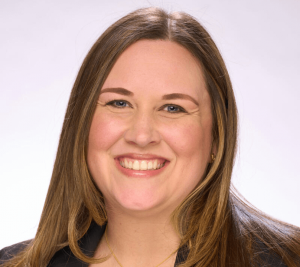 Rawlins will determine the strategic direction, key performance indicators, organizational design, and long-term tactical goals for alumni engagement and annual giving for Owen. She will be responsible for planning, coordinating, and directing all aspects of alumni engagement and annual giving programs. 
"I am thrilled to foster an environment where alumni, donors, parents, and friends feel connected to the school," says Rawlins. 
Rawlins comes to Owen with a heart for service and a passion for building relationships. 
"My vision is to create a community of alumni, donors, parents, and friends who feel connected to the school and have a strong desire to continue their relationship throughout their life. Owen's Closing Bells, the Owen Forward program, our Annual Giving options, Alumni Board connections, Class Agent and Class Secretary roles, volunteer opportunities, and donor giving societies, are just a few ways for continued support post-graduation," says Rawlins. "I look forward to meeting our incredible supporters, based around the globe, who are committed to the future of Owen and its continued growth. The opportunity to work for Vanderbilt University, and, specifically, Owen Graduate School of Management, is a dream come true. I am thrilled to join the incredible Alumni Relations and Annual Giving team."
Rawlins brings over 12 years of relationship building, event planning, corporate account management, and fundraising experience. She comes to Owen from The ALS Association, where she recently served as Management Director, Development, and previously as Major Gifts Officer and Development Manager. Before The ALS Association, Rawlins held positions with United Way Worldwide and United Way of Metropolitan Nashville. 
Rawlins earned a bachelor's degree in Liberal Studies, with a focus in Bible, Missions and Family Studies, from Oklahoma Christian University.   
"One of my core values is human connection, and I am so excited to be in a position fueled by positive relationships," says Rawlins. "It's an honor to serve the Owen community and to help advance Vanderbilt Business." 
In her spare time, Rawlins enjoys watching a variety of TV shows and movies, playing bi-weekly trivia with friends, reading novels, traveling, and chatting with her nieces via FaceTime.