A team of 4 Vanderbilt MBAs takes home the grand prize after placing first in the 10th annual SEC MBA Case Competition
By Lacie Blankenship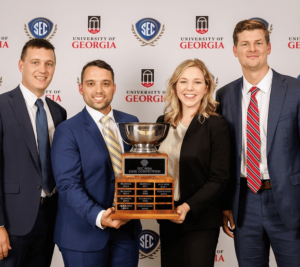 A team of 4 Vanderbilt Business students—Ben Jickling (MBA'23), Caleb Petersen (MBA'23), Chris Scheinert (MBA'23), and Haley Menz (MBA'23)—secured first place at the 2023 SEC MBA Case Competition. 
"Participating in the SEC MBA Case Competition was an awesome opportunity to represent Vanderbilt University and the Owen Graduate School of Management," says Scheinert.
In early April, the University of Georgia hosted the 10th Annual SEC MBA Case Competition. The case study came out of an Atlanta-based company, WestRock, a leading provider of sustainable paper and packaging solutions. 
"In terms of the case prompt, it was an interesting and fun business problem to think about," says Petersen. "As a team, we enjoyed exploring ways that a large company like WestRock could play a meaningful role in sustainability and climate initiatives. The panelists WestRock brought to the competition were excellent and had great questions for our team."
WestRock was announced as the client for this year's competition in early March. The Vanderbilt MBAs credit their immediate response to the client announcement as part of their preparedness for the competition. 
"Once we knew that WestRock was going to be the presenting sponsor, we started preparing almost every day for about 3 weeks before the competition," says Scheinert. "We wanted to be the first team from Vanderbilt to win, and we knew that we were going to have to put in a ton of work in the beginning, to put ourselves in a position to win." 
Once case information was distributed, the teams had nearly 24 hours to compose their recommendations and prepare for divisional and final presentations. 
The first-place prize was $10,000. The University of Kentucky placed second winning $6,000, the University of Alabama placed third winning $3,000, and the University of Tennessee placed fourth, winning $1,000. 
Jickling was recognized with a Best Presenter award, and Petersen was recognized with a Best Q&A award.
The team was selected to represent Vanderbilt Business through an application process facilitated by team advisor, Courtney Fain, Associate Director, MBA Coach, and Brian T. McCann, David K. Wilson Professor of Management, Faculty Director, Executive MBA Program. The 4 peers applied as a team after bonding through recruiting experiences, group projects, and being friends outside the classroom.

"The competition put into perspective the application of the fundamentals we have learned across disciplines during our time at Owen," says Menz. "The problems from our class lectures and case discussions are problems real companies face and we have the tools to solve them."
"Our team talked about the possibility of going to the SEC MBA Case Competition a while ago. To see us selected as the team that got to represent our school, then put in the work in preparation, go to the competition, and have success was a really awesome kind of culmination of our business school experience," says Scheinert.