In this edition of People of Vanderbilt, we spotlight Mareea Beasley
By Arial Starks
Vanderbilt Business is known across the globe for its high caliber of students, faculty, and staff. In this edition of People of Vanderbilt, we spotlight Master of Marketing student Mareea Beasley, who shares a little about herself.
What is your secret talent? 
I am a master player of the card game Solitaire.
Who or what empowers you at Vanderbilt? 
I am empowered by the virtuous women at Owen. They are intelligent, powerful, and inspire others to do great things in the community.
What are 1 or 2 experiences that have really shaped your time here at Vanderbilt?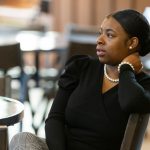 The Industrial Immersion course really shaped my time as a Master of Marketing student. We were tasked with writing a 15-page paper about an industry that we would want to pursue after graduation. At the end of the module, we also had to present our findings. My communication, organization, writing, public speaking, and analytical skills were enhanced throughout this process.
What's your favorite way to connect with the Vanderbilt community?
Attending Closing Bell every Thursday evening allows me to connect with the Owen community. Students, faculty, and staff come together to get a break from academics and learn more about each other on a personal level. I have met great people with a plethora of experiences.
What's something you've learned about yourself during your time at Vanderbilt?
I've learned that it is important to give myself grace.
Looking back on your time at Vanderbilt, what is one of your favorite memories, activities, or rituals?
My favorite memory so far was the Black Cultural Center Professional Mixer. It was a great opportunity to network with other graduate & PhD students who are thriving in their academic endeavors.
Are you in a leadership role in association with Owen? If so, name the organization and title.
I am a Student Admissions Ambassador for the Master of Marketing program.