Vanderbilt Business partners with local non-profits to develop social impact investing fund to invest in disadvantaged Nashville businesses
By Arial Starks
Impact investing has emerged as a growing category of private investing, designed to enhance social welfare, and provide a positive financial return. In the past few years, there has been a growing US awareness of the stark disparity between access to capital for Black, brown, and immigrant small businesses—particularly in Southeastern cities like Nashville. Student interest in impact investing has grown in recent years, with more students looking for ways to apply their business skills to address social challenges.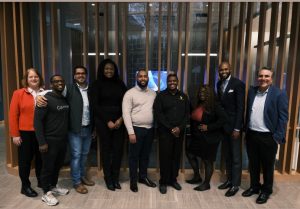 Over the course of roughly 2 years, Eric Johnson, Ralph Owen Dean, and Sallie Bailey, local investor, and Adjunct Professor, worked to build a partnership with Nashville nonprofits, law firms, and financial service providers to launch a student-directed impact fund. They also collaborated with colleagues at the Harvard Business School who had developed a similar student impact fund. Remembering the past two years, Bailey noted, "It was exciting to bring together my experience in the corporate world, my time at the Harvard Advanced Leadership Initiative, and my passion to make a difference in Nashville."
This spring the group recruited Mario Avila, Director, Turner Family Center for Social Ventures, and Brandon Valentine (MBA'23) Teaching Assistant, to offer a new Owen elective course. The class, geared towards primarily second-year MBA students, was offered in Spring 2023, with the purpose of teaching students about impact investing and providing them with hands-on experience. 
"This class was built around the idea of investing in Nashville's disadvantaged businesses who experience challenges raising capital," Johnson explained. "The students had $100,000 to invest, and we have officially allocated all of that money into four different businesses. Three businesses have already received their funds."
As part of the initiative, Vanderbilt Business partnered with several local non-profit organizations, including Corner to Corner, and collectively the group worked to help develop the course. "It was exciting to collaborate with Vanderbilt's Owen School to help business students understand the opportunities and challenges facing Black entrepreneurs," said Shana Berkeley, Executive Director of Corner to Corner. "We were delighted to see alumni entrepreneurs from our programs successfully win funding to grow their businesses." 
A key part of the class was hands-on investing in local businesses. Students learned to conduct the due diligence required to support the investments that were made through a partnership with Impact Assets – a leading impact investing firm. Pro-bono legal support was provided by Nashville-based Bass Berry Sims and the Vanderbilt Law School's Turner Community Enterprise Clinic.
"This class and topic hold immense significance as it provides an opportunity for students and entrepreneurs to make a positive impact in the historically underserved Nashville community," said 2nd-year Vanderbilt MBA candidate Louis Torchio. "Having embraced Nashville as my new home over the past year, I deeply value the chance to contribute towards creating equity and fostering long-term prosperity within the community."
Students were divided into groups based on the final four investment candidates: a notary company, a food services firm, a candle company, and a custom printing company. The class concluded with the students pitching their financial cases to an external committee, which evaluated the investment ideas. All four firms were awarded investment to grow their businesses.
The investments are having an impact. Adrienne Bowling, owner of notary business, A-1 Mobile Notary LLC, said, "I am truly grateful for this opportunity, and in awe of the student approach to thoroughly understanding my business model and pitching it in a way that would make it attractive to investors." She adds, "The funding received will propel my business exponentially by enhancing technology, helping me develop into a fintech that will allow me to remain competitive and be in alignment with an industry that is projected to be a 2.1-billion-dollar industry in the next 10 years. I am so excited for the journey ahead!"
Christopher Smith, the entrepreneur behind the food services firm Bunshine, remarked that "The process helped me adequately articulate the impact of my business, and the funding will help me grow that impact exponentially. I am excited to expand my team, increase sales, and ultimately develop a world-class company with the support of the Vandy Impact Fund." 
Jessica Doaks, owner of The Black Candle Company, noted "The Vandy Impact Fund program and the Owen graduate students have provided a transformative learning experience that has helped me grow as a person and will ultimately catapult my business into success."
The fourth entrepreneur, Thomas Kelly of Creative Soulz Printing, stated, "The funds of the Vandy Impact Fund have already seen an immediate influence on the growth of my business. Since funds were provided, I have begun moving my work environment to Kreate Hub, and learning to operate my new Roland MG-640 UV printer."
While this was the first year of the course, Johnson believes the future of the Impact Investing class is bright. "We certainly would love to see this continue to grow, and in the future, address even more marginalized communities in Nashville," he said. "And we want to do that in a way that works hand in hand with more organizations like Corner to Corner."