A closer look at the Vanderbilt Executive MBA Class of 2025
By Eigen Escario
The Vanderbilt Executive MBA (EMBA) Class of 2025 arrived on campus in August, with students coming from 41 undergraduate institutions and 48 companies. The diversity of experiences in the cohort offers each student a well-rounded perspective and approach to their individual business aspirations. With an average work experience of 11 years, each student can sharpen their expertise with an edge in business concepts through the program. Read below to learn more about the EMBA Class of 2025.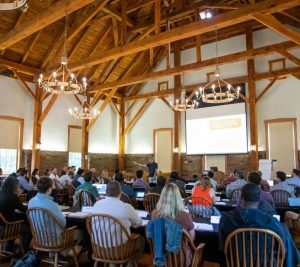 Demographics
Class Size: 50
Average Age: 34
Age Range: 26 – 50
Female (% of class): 20%
Married or Engaged (% of class): 70%
Minorities (% of U.S. citizens): 17%
International Students (% of class, including dual citizenship and permanent residents): 18%
Average Years of Work Experience: 11
Military Service (% of class): 16%
Scholarship Recipients (% of class): 56%
Academic Statistics
Average Undergraduate GPA: 3.14
Median Undergraduate GPA: 3.2
Average GMAT Score: 693
Median GMAT Score: 690
Undergraduate Institutions Represented (partial list):
Belmont University

Bharathidasan University

Cornell University

ESI School of Management

Furman University

George Washington University

Harvard University

Michigan State University

Middle Tennessee State University

Shanmugha Arts, Science, Technology & Research Academy 

United States Military Academy

University of North Florida

University of Notre Dame

University of Tennessee, Knoxville

Yildiz Technical University
Companies Represented (partial list):
Amazon

FedEx Ground

Hastings Architecture, LLC

KFC Foundation

KPMG

Merrill Lynch

Nashville Fire Department

PENN Entertainment

United States Armed Forces

Vanderbilt University
To learn more about the EMBA program, click here.