A snapshot of the Vanderbilt MS Finance class of 2024
By Eigen Escario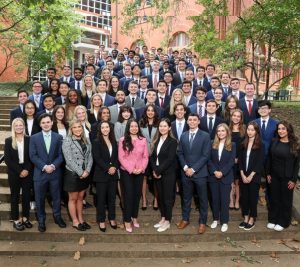 Vanderbilt welcomed its newest Master of Science in Finance (MSF) class to campus in August. Together, the MS Finance Class of 2024 represents 64 undergraduate institutions from all over the country, with a third of the class coming in from around the world. The group's diverse experiences will give each student a versatile and comprehensive view of business and finance as they prepare to launch careers in various roles and industries. Read below to learn more about the MS Finance Class of 2024.
Demographics
Class Size: 94
Average Age: 22
Age Range: 20 – 29
Female (% of class): 27%
Married or Engaged (% of class): 3%
Minorities (% of U.S. citizens): 19%
International Students (% of class, including dual citizenship and permanent residents): 33%
Scholarship Recipients (% of class): 71%
Academic Statistics
Median Undergraduate GPA: 3.74
Median GMAT Score: 650
Undergraduate Institutions Represented (partial list):
Brown University

Boston College

Cornell University

Emory University

Florida State University

Fordham University

Georgetown University

Harvard University

Johns Hopkins University

Northeastern University

Stanford University

University of Alabama

University of California, Berkeley

Vanderbilt University

Wake Forest University
To learn more about the MS Finance program, click here.