A snapshot of the Vanderbilt Master of Marketing Class of 2024
By Eigen Escario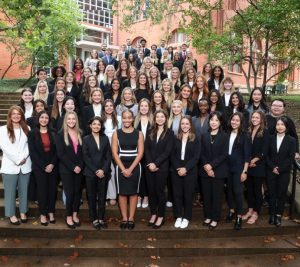 Vanderbilt welcomed its newest Master of Marketing (MMark) class to campus in August. Women represent 86% of the class, and 23% of the cohort is international. This diverse group represents 53 undergraduate institutions and 28 different majors, giving each student the opportunity to bring their unique point of view to the table as they prepare for exciting careers in marketing. Read below to learn more about the Vanderbilt Master of Marketing Class of 2024.
Demographics
Class Size: 71
Average Age: 22
Age Range: 21 – 25
Female (% of class): 86%
Married or Engaged (% of class): 1%
Minorities (% of U.S. citizens): 16%
International Students (% of class, including dual citizenship and permanent residents): 23%
Scholarship Recipients (% of class): 94%
Academic Statistics
Median Undergraduate GPA: 3.72
Median GMAT Score: 620
Undergraduate Institutions Represented (partial list):
Barnard College

Baylor University

Boston University

Florida State University

Georgia Institute of Technology

Howard University

Oxford University

Spelman College

University of California, San Diego

University of Chicago

University of North Carolina

University of Virginia

Texas Christian University

Vanderbilt University

Wake Forest University
To learn more about the MMark program, click here.