The third annual summit is largest yet for Turner Family Center for Social Ventures
By Kara Sherrer
On January 27, more than 100 students from Nashville gathered in the Vanderbilt Law School to hear from a dozen social impact speakers. Hosted by the Turner Family Center for Social Ventures (TFC), the third annual summit gave attendees a chance to learn about opportunities in the social impact space and network with speakers. This year's theme was cross-sectional collaboration.
"We wanted (the Summit) to be a one-day event where people who are doing a lot of progressive programming in their area can…share what is going on in their fields, so students interested in social impact can learn more," said Dia Chakraborty (M.Ed. IEPM'18), this year's Summit Chair on the TFC board. "The aim of the summit was to show that you can make profits but also drive sustainable social change."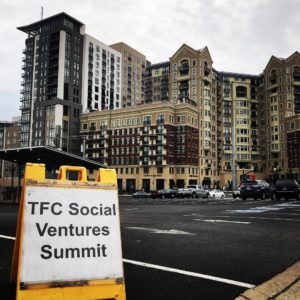 Social enterprise is a broad concept that looks at how an organization or company positively impacts the community around it while continuing to turn a profit (as opposed to a non-profit). Many students are attracted to the idea of working for a socially impactful company, where they could do work that helps the environment or their community while still drawing a for-profit salary.
Eyeglasses company Warby Parker is an example of a well-known social enterprise company: It's donated more than 3 million pairs of glasses worldwide — and earned $250 million in revenue last year, according to estimates from Inc.
"A lot of the students really want to understand ways that they can apply what they're working on and studying in school to social enterprise," added Tyler Skelton (MBA'19), who helped coordinate logistics for the Summit.
The Speakers
Anna Stork, co-founder of LuminAID Lab, which makes solar-powered inflatable lights, opened the summit with a talk on how she scaled her idea from prototype to 1 million units sold. Stark flew to the summit from China and was only in Nashville for a few hours before flying out again.
"She did it because she wanted to spend time with Vanderbilt students, which I think reflects well on the Center and the University as a whole," Chakraborty said.
Other speakers included Stephanie Ahn, Program Officer for Results for Development; Daynise Joseph, Community Impact Manager at Google Fiber; Emmanuel Novy, Director of Education Programs at Sesame Workshop; and William Towns, Executive Director of Benefit Chicago. Several experts from across the Vanderbilt community led breakout sessions and workshops, including Bart Victor, TFC Faculty Director and a Professor of Management at Vanderbilt Business.
James Nardella, Principal of the Skoll Foundation and a Vanderbilt alum (M.Ed. IEPM'09), closed the summit with a discussion on how to design solutions based on the size of the social impact problem. "I think it was a great way to end the summit by bringing together what the scale of the problem is and how social enterprises can work together to achieve the most impact," Chakraborty said.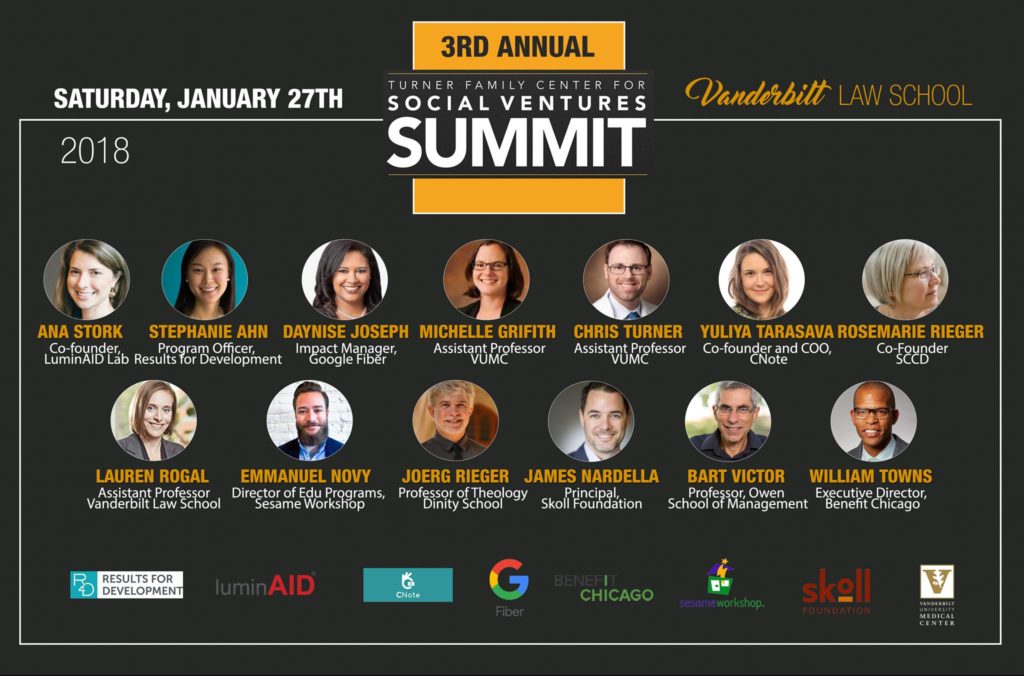 Expanding the Summit
2018 was the first year that organizers opened up the Summit to students beyond Vanderbilt. Chakraborty reached out to a few local colleges, including Lipscomb and Belmont, and a number of students from other institutions purchased tickets (the event remained free for Vanderbilt students). Overall, about 25% of total attendees came from off campus.
Coordinators also added a flash pitch competition the night before the Summit, co-sponsored by Teach for America (TFA). The competition drew in participants from across the Vanderbilt campus, who formed teams of 3-4 students. TFA Nashville staff asked participants to create and monetize a talent hub to recruit highly qualified alumni teachers and school leaders and match them with the right jobs in Nashville. Students had two hours to prepare their solutions, and then pitched them to a panel of judges.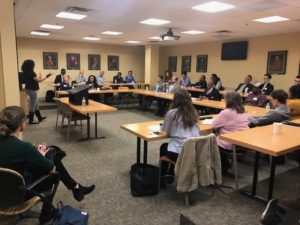 "I think the biggest success of the event was how many people we got to come, and I really hope we can feed off that going into next year," Skelton said.
While the TFC is housed in Management Hall, it serves graduates students from all departments, including the law school and school of education. The interdisciplinary nature of the TFC reflects the cross-sectional collaboration that Summit speakers discussed — collaboration that is crucial to the success of social impact ventures.
"You have to move beyond your own bubble and your own expertise and collaborate with people to make effective, sustainable change happen," Chakraborty said.
To learn more about the Turner Family Center for Social Ventures, visit the TFC website.