Teams offer digital advertising strategies for Bluetooth-connected smart locks
Vanderbilt's Accelerator®—Summer Business Institute is a four-week certificate program for college students and recent graduates that combines classroom learning with real consulting projects. Last week, students created social media advertising strategies for Haven Lock, a Bluetooth lock company.
The client: Haven Lock creates Bluetooth smart locks that can protect homes and businesses from would-be intruders. The locks are 10 times stronger than a regular deadbolt and install unobtrusively along the bottom of a door. The locks can be turned on and off with a key fob or the connected smartphone app. Created by Special Ops veterans, the product is designed, tested, and manufactured in Tennessee.
The project: Teams were tasked with creating Facebook advertising campaigns to promote the two consumer versions of the product, Haven Lock and Haven Mech. The goal of the advertising campaign was to increase click throughs to the Haven Lock website. Teams were supposed to touch on target audiences as well as content and messaging for their mock ads. Each team also created a video ad to demonstrate their concept.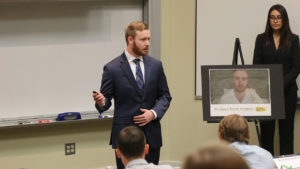 The presentations: Many teams chose to focus on homeowners, who want to protect their property, as well as parents, who want to protect their families. Teams also focused on middle and upper-class consumers, who are more likely to own a home and be willing to pay for additional security measures, and Facebook users who had liked home security and/or smart technology pages on Facebook.
Students also recommended targeting specific geographic areas with the Facebook ads. The teams suggested particular cities and zip codes based on a variety of statistical criteria, including crime rates, household income, influx of new residents, snake person concentration, and the rate of gentrification.
Teams used consumer marketing research to inform their video ad concepts, leveraging databases through the Walker Management Library. Many of the ad examples included children and dogs to make viewers feel emotionally involved and activate a desire to protect their homes. Teams were also careful to include captions on their videos, since many Facebook users play video ads on mute.
Some teams went for a more humorous or home video feel, while one team created a hand-drawn whiteboard time lapse ad inspired by Dropbox, which earned praise from Haven Lock chief marketing officer Dan Wipert. "This is one of the best ads I've ever seen for Haven," he said.
The feedback: The judges praised students for their extensive demographic, location, and ad content research. "That's the kind of research that we need," said Clay Banks, co-founder and chief operating officer. "The Justice Department crime data that was presented was very impactful (in particular)."
"This is kind of the lifestyle of running a business and being an entrepreneur: Every week there's going to be a different fire, a different project, and you're always on the hustle," he continued. "And you all hustled this week and outperformed our expectations."
Professor Jon Lehman, the faculty advisor for this Haven Lock project, also celebrated how far teams have come as the students reach the halfway point of Accelerator. "I have seen amazing progress in just two weeks, in the way you think about problems, the way you work together in teams, the way you present," he said. "And I know you're going to continue to get even better and stronger as the next two weeks unfold."
Want to learn more about Accelerator®—Summer Business Institute? Visit the program page or request more information.