How an MBA can help you start a career on the business side of healthcare
By Kara Sherrer
Healthcare careers attract people with a desire to make a difference and with the variety of available job functions. Whether you've worked in healthcare before or not, getting your MBA is a great way to make the transition to the business side of the industry.
We talked to Emily Anderson, Director of the Career Management Center, and Amanda Fend, Senior Associate Director and Coach at the Career Management Center, to find out everything you need to learn before you switch into a healthcare career with an MBA.
You can get a role in almost any business function.
You can get pretty much any type of job within the healthcare space: finance, consulting, marketing, operations, HR, and general management, to name a few. With that in mind, it's not enough to just say that you want to go into healthcare: You need to know what specific function(s) you're recruiting for within the industry. "Anyone can switch into healthcare. They just need to go to a healthcare company," Fend says. (For a more in-depth look at healthcare jobs for MBAs, click here).
Recruiting pipelines for MBAs are more informal.
While some larger corporations have time-tested processes for hiring MBAs, hospitals, startups, and other healthcare businesses are relatively new to the game. As a result, the recruiting process is more informal at these companies. Students have to rely heavily on independent networking and opportunities arriving later in the recruiting season. "It's an industry that's on the newer side of hiring MBAs…it's a fragmented industry, so that means there is probably more opportunity for MBAs to get into it than some of the more mature ones out there," Anderson says. "They're aren't clear paths for MBAs who want to get into the provider side, so you have to make them. You have to talk to people," Fend adds.
Know why you want to get a job in healthcare.
Many can and do enter the healthcare industry because of an altruistic desire to help others. However, this motivation won't be enough to set you apart from other applicants, so you need to be able to articulate other reasons besides that one. "Something about it has to be appealing other than 'I just want to help people,' because it's a hard industry to get into," Anderson says.
You need some level of hands-on experience.
If you're not sure what part of healthcare you want to work in, getting hands-on experience can help you make that decision. For example, Fend says that every year, a small handful of students who thought they wanted to go into the provider side change their minds after participating in Healthcare Immersion or volunteering at a hospital. "If you want to work on anything even remotely close to a patient, go get something on your resume," she says. "There's no magic formula except trying to expose yourself to different aspects of the healthcare industry," Anderson confirms.
Industry knowledge is key.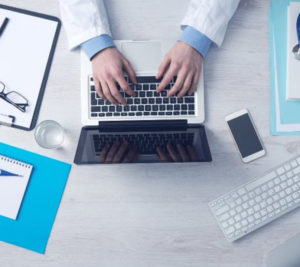 "By the time you're interviewing, (companies) expect you to be pretty knowledgeable about the industry and to have your own opinions," Fend says. You'll gain some of this knowledge through the business school curriculum, but if you're recruiting for specific subsets of healthcare — such as pharma or biotech — you'll want to conduct additional research to familiarize yourself with those particular topics.
Current events matter.
Because the healthcare industry is so closely tied to the government and public policy, you'll also be expected to follow current events, understand how they impact the industry, and form insights on them. Political news, like the latest on the Affordable Care Act or changes in insurance coverage, are really important to know, so follow the news and stay up to date.
Many business roles are support roles.
When you're close to the patient, all the final decisions will be made by doctors, which can be hard for some business students, especially if they exercised a lot of influence in previous jobs. If you're contemplating a new career in healthcare, make sure that working with and supporting clinicians is something you'd like to do. "In healthcare, as a businessperson, you're always going to be in that support function, especially if you're on the provider side," Anderson said.