Students learned key terminology and practical employment tips to help launch them towards a successful career in healthcare
By Heream Yang
It's no secret that Nashville is a healthcare hub, and many students enroll in the Vanderbilt Business MBA program in the hopes of using the degree to break into the industry. From internships with local companies to immersions at the nearby Vanderbilt University Medical Center, Vanderbilt Business offers students an inside look into America's healthcare system.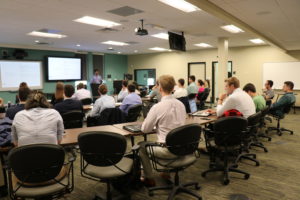 To help new MBA candidates get up to speed on this complex industry, the Vanderbilt Business Healthcare Association (VBHA) recently hosted a Healthcare Symposium. Below are four essential tips from the conference to developing a successful career in healthcare.
Do your research.
A knowledge of key terms, current events, and history are essential to securing a job in the healthcare industry. "These are all things we had to reference in our interviews," explained Cameron Phipps (MBA'19), President of the VBHA. "People want to see when you're going into the healthcare industry that you know your stuff, that you know where it's been."
Be careful with statistics.
Data is able to paint a powerful narrative concerning the efficacy of certain policies and programs in the healthcare industry. However, for certain statistics, such as the comparably high U.S. infant mortality rate among wealthy nations, it's important to consider the factors behind the statistics. For example, the U.S. takes into account premature births, while many other countries do not, and MBAs need to keep caveats like that in mind during interviews and networking conversations.
"Not every number on the surface is exactly as it seems," Phipps said. "If you throw out a percentage, if you throw out a ratio, you'll get challenged. You really have to dive in and see how they're calculating (the statistic) and what they are taking into consideration."
Be prepared to work with laws and regulations.
The ethical aspect of the healthcare industry makes it especially sensitive to government regulations. "It's completely counter to any other way you do business in any other industry," said Burch Wood (MBA'10), Director of Health Care Programs at the Owen Graduate School of Management.
These regulations hit certain sectors of the healthcare industry especially hard. "There are a lot of laws and regulations around the pharma and med device space, which makes it an exciting space to work in but also a headache of a space to work in," Raj Majumder (MBA'19) added.
As frustrating as these regulations may seem at times, they are ultimately necessary to enforce ethical standards. "There's a lot of different aspects you have to be aware of for regulations, but I think they're in place for a reason," Phipps said. "You're dealing with drugs and you're dealing with a lot of patients that are desperate for getting treatment."
The hard work is worth it.
Despite the many challenges and shortcomings of the healthcare industry, it ultimately offers an incomparable opportunity to impact lives for the better. "I enjoy the industry," Wood said. "The nice thing about the industry is that it lends itself to people who want to do good things. When you do things in a healthcare setting, you tend to be helping people, so you tend to go home with a very nice conscience."
Want to learn more about getting an MBA at Vanderbilt Business? Visit the program page or request more information.