Former Tennessee football player Parker Henry (MSF '19) uses his athlete's work ethic to build a promising future in finance
By Heream Yang
Parker Henry knows a thing or two about hard work: The Hendersonville native's dedication to his high school studies paid off when he received a full academic scholarship to the University of Tennessee (UT). He maintained these excellent high school grades while playing football, and he also received several recruiting offers for college.
At first, Henry opted to "go pro" with his academics, hanging up his cleats and accepting the academic scholarship at UT. However, several months into his college career, Henry found himself itching to get involved in campus life beyond the classroom. "I had always been either an athlete or club president or something else, and not having that in my life kind of detracted from my college experience," Henry said. "I went and tried to find something I really loved to do."
Back to Football
Henry found himself drawn to football once again, and he became an equipment manager for the Tennessee Volunteers, working long hours keeping the team's uniforms, cleats, helmets, and other equipment in prime condition. Because of his former football experience, he was promoted quickly until he eventually found himself helping signal plays. The more time he spent with the football team, the more he found himself wishing to get back in the game.
"I still had this big desire as a lifelong UT fan, growing up in the area, to have the T on my helmet and run through the T and have that jersey on, but I never thought that dream would be realized," Henry said.
In a serendipitous twist of fate, the head coach at the time, Butch Jones, noticed Henry and formally asked him to walk on the team. Henry joined the scout team in 2015, and though he spent much of the season on the sidelines, his remarkable work ethic and determination earned him a spot as a starting holder on special teams for the next two years.
Whether on the field or in the classroom, Henry never failed to give things his best shot. Bringing his competitive nature to his academics, he maintained a 4.0 GPA while pursuing a double major in political science and finance. His impressive academic and athletic record did not go unnoticed, as he was named the 2017-2018 SEC Scholar-Athlete of the Year.
"I wasn't the person who was happy with the average," Henry said. "I wanted to know what the top grade in the class was, because that's what I'm shooting for."
A Future in Finance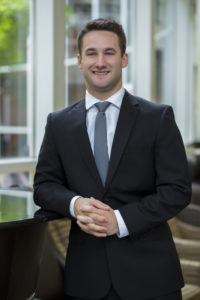 Henry's relentless quest for academic excellence led him to the Master of Science in Finance program at Vanderbilt, which he will graduate from in 2019. "Finance is a subject I have always been passionate about," he said. "Even if I were not making a career in finance, I would still find myself waking up in the morning checking markets."
As for what interested him in the Vanderbilt MSF program specifically, Henry was drawn to the prestigious internship opportunities and the rigorous technical education. "Coming out of undergrad, I had no internship experience due to my intense involvement in football," he said. "I decided to enroll at Owen to take my technical skills to the next level while also gaining valuable experience through internships during my time in the program."
Henry says he has really enjoyed building relationships with classmates who continually challenge him to strive for the best, a camaraderie reminiscent of his time on the football team. "It's really been a rewarding experience to get to be with other people who are passionate about finance in the way that I am, but also willing and able to step out of their comfort zone and say, 'Hey, man, you're wrong and here's why,'" he said.
As Henry progresses towards a career in finance, he has discovered that the skills he developed as a student athlete help him stand out to potential employers. In fact, he recently accepted an offer, and he will be working full-time at an investment banking firm in Nashville after graduating in May.
"I've had a lot of receptivity in terms of job offers and job interest from employers," Henry said. "They love when you're able to combine a hard work ethic from football with the technical skills of finance, and that's really the reason why I came to Vanderbilt…(the program staff) all sold me on this idea that, 'Look, you've got the hard work ethic side, and now we're going to give you the technical side, and when you combine those, it'll work out very well.' And they were 100% spot on."
Want to learn more about the Master of Science in Finance degree at Vanderbilt Business? Visit the program page, or request more information.