Our MBA admissions team explains the ROI of an MBA, from better earnings potential to a dedicated alumni network
By MBA Admissions Team
If you have considered a full-time MBA program it's no secret that it's a big investment of time and money. What you might not know is that the ROI of the MBA can be measured by more than just your earnings potential (though of course that's very important!). Here are five types of ROI that we like to discuss with prospective students when they have questions about how getting their MBA will pay off. If you're wondering whether or not getting your MBA is worth it, here's what you need to know:
Better Earning Potential
Making money is important and an MBA helps you maximize your earning potential for the rest of your life. The investment you make today pays off in the short term and the long run as you advance in your career: The average starting salary for our Class of 2018 MBA graduates right out of the program was $111,168. Additionally, many employers may offer sign-on bonuses and relocation packages to attract top talent; the average signing bonus was $26,415. Assuming you will continue to have salary increases as you advance, then it should be clear that you are making a very wise investment in your future, financially speaking.
A Foundation in Business Knowledge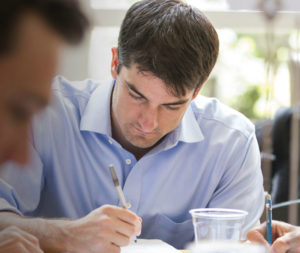 At their core, MBA programs prepare you for a management career in business, whether at a large company or start up, a public or private company or even a non-profit or NGO. The MBA is the most useful degree you can earn. Through the curriculum, you will learn about key core business functions such as finance, accounting, strategy, marketing, human resources, operations, and much more. If you haven't worked in a business setting before, or didn't receive this type of education in your undergraduate career, then this new knowledge is a key part of your return on investment. You will leave an MBA program with an advanced knowledge of business concepts that you can apply as you move forward in your career.
Training to Further Your Career
Aside from your classes, you will also develop key soft skills that are not only valuable, but necessary in the business world. Corporate recruiters state that soft skills are the number one criteria they look for when hiring. You will practice and gain confidence working in teams, interviewing, public speaking, leadership, budgeting, negotiating, and conflict resolution. Some programs also offer personalized training, such as Vanderbilt Business' Leadership Development Program, to help you really identify your strengths and understand your leadership style.
Career Development Resources
While at business school, you will have access to career management coaches to help you polish your resume, improve your interviewing skills, determine the best career paths for your goals, connect you with recruiters, and more. You will gain valuable insights into the craft of interviewing that you will take with you into your internship, your first post-MBA job, and beyond. As an alumnus, you will still have career services support to make sure you continue to be successful.
Alumni Network
Who you know is important, and many people attend business school in order to meet peers and connect with alumni of the school. With over 9,500 Vanderbilt Business alumni across the world plus thousands more Vanderbilt University grads, you will gain a valuable network of peers, mentors, friends, and a community that will help you succeed during and after your time at business school. The alumni network is especially important since our graduates often play a critical role in helping students recruit for MBA internships and full-time jobs. And of course, having a large, well-connected network is important for success in any business position.
If you are ready to take the next step in your career, make sure you are considering all the valuable benefits an MBA has to offer. Earning your MBA ensures that you are maximizing your earning potential and gaining the right skills and confidence to be successful in the future, no matter your business endeavors. If you'd like to learn more about how getting your MBA pays off, feel free to visit our program page, or reach out to me or another admissions officer.