MMHC students belong to three main groups: physicians, clinicians, and non-clinical administrators
By Kara Sherrer
The Master of Management in Health Care (MMHC) is designed to transform practicing physicians, nurse clinical leaders, and non-clinical administrators into business leaders in only a year. The program is scheduled to accommodate working professionals, so they can gain business knowledge while still working full-time.
The Master of Management in Health Care is open to anyone working in the health care industry with at least five years of experience, though the average MMHC student has worked for 15 years. The student body is equally divided between physicians, clinicians (such as nurses), and administrators. We talked with Burch Wood, Director of Health Care Programs at Vanderbilt Business, to learn more about these three groups and the importance of a diverse class cohort.
Why the Variety in Professions?
According to Wood, having students from every possible sector of the healthcare industry makes for a more productive, lively classroom. Students learn from their peers as well as their professors, gaining insight into parts of the system that they don't touch directly. "They're all connected to healthcare. That's their one tie in…but aside from that, they're very different," he says of the students. "It's what I strive for. I am always willing to take people from other areas of the industry."
The students are also united by their desire to learn more about the business side of healthcare, which few of them have received previous exposure to. In fact, it's possible to work your way up into a healthcare leadership position without any formal business training at all. "You don't have to start with a business degree to get into (the healthcare industry). An interest in healthcare is often the major prerequisite," Wood says. While that business knowledge may not be required to start a career in healthcare, it often becomes necessary as professionals move into leadership roles, and that's where the MHHC program comes in.
So who exactly attends the MMHC program? The three main groups are:
Physicians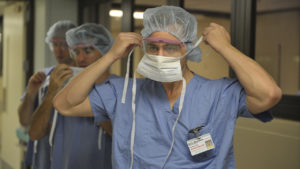 Most physicians looking at the MMHC program have just gotten their first real leadership role or are currently pursuing one, and therefore want to gain the business skills necessary to succeed in that position. Some physicians also come to the program simply because they're curious and want to learn more about a side of the health care industry they were never exposed to in medical school. While many surgeons are drawn to business because of their focus on process, the program also attracts many medical physicians, and there's not an overwhelming majority of either kind. "(Physicians) often realize that they don't know what they don't know. They come to learn the business side to help them out as they take on this new role," Wood says.
Clinicians
Nurses and other clinicians are in a slightly different spot than physicians. Many of them have already taken on management- or director-level roles and may been working in them for years. "They've been at it long enough to know that they didn't have the business piece. They want to be better at it," Wood says. Clinicians hail from a variety of specialties, not just nursing but also other positions such as respiratory therapists and pharmacists. "Nurses and other clinicians are literally across the board…I've had very nearly every kind of clinician in here. The same with non-clinical administrators," Wood adds.
Non-Clinical Administrators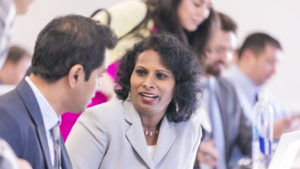 Like clinicians, non-clinical administrators also tend to already occupy some kind of management- or director-level position. Many of them come from hospitals or other delivery organizations such as HCA, Saint Thomas health, and of course Vanderbilt Medical Center. However, Wood says that they've gotten administrators from payors, tech companies, consulting firms, and even corporate offices for healthcare companies. "There are very few places (in the healthcare industry) we haven't touched so far," he says. Given all the changing government regulations, healthcare is growing more complex by the day, and administrators are often working on the front lines, which is why gaining extra business education is so appealing to them. "It's becoming more and more difficult to do (healthcare) without some kind of business training, and these administrators realize that," Wood says.
Whatever part of the industry they come from, students will find themselves in a class of likeminded, passionate people eager to learn from professors and each other. "They're really just driven people trying to understand business before the business of healthcare gets away from them," Wood says.
To learn more about the Master of Management in Health Care at Vanderbilt Business, visit the program page or request information.