The Vanderbilt Master of Management of Health Care program students are managers, health care practitioners, working clinicians, and executives that are in—or moving into—management roles in hospitals, clinics, managed care organizations, or pharmacies. The class is intentionally comprised of 1/3 physician leaders, 1/3 clinical leaders, and 1/3 non-clinical administrators. Each Capstone Strategy Team is comprised of peers from these different backgrounds.
CLASS PROFILE
Class Size
21
Age Range
25-55
Avg. Years Work Experience
12
Advanced Degrees
56%
Women
38%
Under-represented Minorities
24%
Distance Students
14%
JOB FUNCTIONS
Physicians

Practice Leaders

Nurse Managers

Medical Department Directors

Pharmacists

Administrative and Other Professionals

Service Line Leaders

Other Clinicians Seeking Career Advancement

ORGANIZATIONS REPRESENTED
Hospitals and Academic Medical Centers

Larger Physician Practices

Clinics and Health Centers

Other Health Care Service Providers
Payers and Managed Care Organizations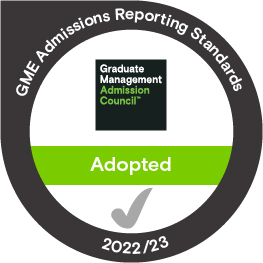 Data reported in our marketing collateral and digital properties aligns with the Graduate Management Education Admissions Reporting Standards. Graduate Management Admission Council and the Square logo are trademarks of the Graduate Management Admission Council and used with permission.
By the numbers
On average, the percentage of students that enter the MMHC program as supervisors of two or more people.
WE ARE
VANDERBILT
BUSINESS.