Local business leaders in the healthcare industry presented their insights on finding scalable solutions to reduce inequitable access to high quality healthcare
By Web Communications
This blog post was written by Lauren Schmidt (Peabody HDC '20), incoming Marketing and Communications Chair for the TFC.
Last week, the Turner Family Center for Social Ventures (TFC) concluded our Impact Panel series with a discussion on Healthcare Access. Each Impact panel has reflected on larger social issues occurring both locally and nationally, such as quality education, women's empowerment, and environmental sustainability. Like our students at the TFC, the Healthcare Access panelists came from a variety of perspectives in order to help generate a richer understanding of the challenges, opportunities, and progress in healthcare access today. We welcomed Lisa Henderson, Co-Founder, President, and Chief Operating Officer of Synchronous Health; Josh Kravitz, Chief Operations Officer of Dispensary of Hope; and Ranga Ramanujam, Professor of Management at Owen Graduate School of Management.
Because the healthcare sector encompasses a spectrum of facilities, services, and insurance plans across the public and private sector, the issue of access is far from black and white. The panelists agreed that barriers to quality comprehensive healthcare include location, time, and affordability. This has created a significant gap in healthcare delivery to a large and vulnerable population affected by issues like food insecurity, housing access, and discrimination.
Technology has revolutionized the modern healthcare industry through developments like genome sequencing and nanotechnology. Both Henderson and Kravitz discussed technology's role in improving home healthcare through innovations like artificial intelligence. The panelists also investigated how technology has the potential to improve communication of potential partnerships across safety-net clinics and large for-profit businesses.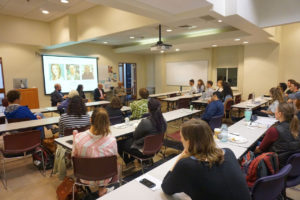 While developing effective healthcare solutions on a macro level has proven quite challenging, significant progress has been made on a smaller scale. For example, Professor Ramanujam discussed the success of Aravind Eye Care System in India. Aravind provides high-quality cataract consultation and surgeries at a low cost. Its efficient cross-subsidized model operates on a sliding scale in which wealthier patients help cover the cost of treatments for lower income patients. This idea has sparked interest across the world. At the moment, Aravind operates as a micro solution for a specific population, but many wonder whether it could one day be applied as a macro solution.
Aravind's success brought up concerns around cross-sector collaboration, legislators, and policy makers. While the root of the problem is systemic, Kravitz pointed out that when non-profit and for-profit entities try to work together, legal obstacles prohibit their success. Improving access to quality healthcare is a tall order for any one person or group to tackle. However, micro solutions like Aravind could play a role in the solution.
Ultimately, improving healthcare access starts with having cross-sector conversations and critically considering how a social enterprise might begin to operate as a micro solution to help vulnerable populations find larger solutions. Whatever approach we ultimately use to tackle the problem, the panelists left us with several key takeaways: the importance of entrepreneurship, the need for collaboration to create solutions, and the value of business principles in fostering innovation.
To learn more about the Turner Family Center for Social Ventures, visit the website.