The Master of Accountancy team dispels five common misconceptions about what accountants do, from the day-to-day work to the long-term career outlook
By Jong Eun Jung
If you asked most people "what does an accountant do?" they'd say something about crunching numbers all day. While it's true that public accountants do work with numbers a lot, that's far from the only skills they gain — and the long-term career options are surprisingly versatile. To help dispel misconceptions surrounding public accounting careers, we sat down with Emily O'Dell, Emily O'Dell, the Director of the Vanderbilt Business MAcc Programs, to get the facts.
Myth #1: An accountant's job description involves crunching numbers all day.
Many people are under the impression that a public accountant's work consists of only math. Now, it's true that the first days at a public accounting firm may be filled with looking at spreadsheets and crunching numbers. However, as they gain experience, accountants start adding additional skills such as interacting with clients and observing the inner workings of a business. Numbers will always be important to professional accounting work, but accountants do much more than just math as they advance in their careers. "I'm sure at some point in (the early days, accountants) are doing tasks that they are not going to continue doing the rest of their careers… the smaller things really make a big difference in the big picture," O'Dell said.
Myth #2: Public accountants work alone in a cubicle behind a computer.
Accountants aren't stuck inside an office all day, everyday. Contrary to popular belief, people skills are important not only in public accounting, but also professional accounting in general (including independent CPA work). In public accounting, accountants frequently work as a team and meet with clients to build relationships with them over time. "If you're in audit, you're typically at a client working with other team members. So you're constantly having to interact with each other and engage and get information from the clients," O'Dell said. "It is very much a team-oriented industry, and it's client-facing."
Myth #3: Public accounting is boring.
An accountant's job description may not be the most thrilling read, but accounting is so much more than mundane, monotonous number crunching. In a public accounting firm, employees get the opportunity to see every aspect of business and experience different service lines within the firm. "I think with the amount of change that happens in the world and the amount of businesses that are coming and going, there's always something different going on, and also you have the opportunity to move through service lines," O'Dell said. "So if you're bored in one service line… (firms) can help you find a different industry or a different service line that would interest you more."
Myth #4: Professional accounting is greatly affected by the job market.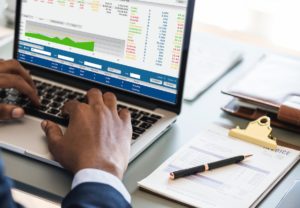 Professional accounting is a very stable career: After all, businesses and individuals have to file their taxes every year, no matter the state of the economy. Even during a recession, professional accounting is impacted less than other jobs are. "It's a people business, (and businesses are) always going to have to keep people. Companies can't just give up their audit… The way that the job market looks will always change, the jobs (being) performed will always change, but (companies) will continue to hire (accountants)… to train the next generation to move up and lead the business," O'Dell said.
Myth #5: Accountants are limited to only public accounting work for their entire careers.
Public accounting prepares people to pivot to a wide variety of careers (especially within the finance world) should they chose to make a change. At around the five year mark, most public accountants either choose to stay at their firm on the director or CFO track, or make the switch to another type of role at a bank or corporation. Some even choose to put their finance skills to use by starting their own businesses, like Reggie Ford (MAcc'14), founder of Roscrete Wealth Management, did. "If you've… worked your way up through public accounting, there's… a lot of exit opportunities, whether you go to one of the clients you worked on, (or) some people may change careers completely," O'Dell said. "Because they've had that solid business base, (they) can use that as a jumping off point to really do anything within the realm of business."
We hope that this answered your questions about what an accountant does. If you want to learn more about getting a Master of Accountancy at Vanderbilt Business, visit the program page or request more information.