Vanderbilt University is excited to announce a unique and transformational two-week certificate program that combines instructional learning and hands-on consulting projects to enhance student-athlete career development
Accelerator® – Business Fellowship for Student-Athletes is the first business immersion program specifically designed for high performing student-athletes. Fellows are fully immersed in a transformational living-learning experience, taking foundational and advanced courses from renowned Vanderbilt faculty, learning directly from business executives, and applying new skills to real projects in teams. On-campus living and rigorous scheduling fosters powerful, lifelong bonds within project teams and cohort, comprised of student-athletes from institutions across the nation. Fellows learn to leverage their strengths and foster professional and academic growth with career mentorship.
Running from May 16-30, 2020, the Fellowship is hosted at Vanderbilt University's Owen Graduate School of Management in the heart of Nashville, TN, one of the most exciting cities in the nation for young professionals.
"We are excited to offer Accelerator® – Business Fellowship for Student-Athletes to augment students' career development," said M. Eric Johnson, Ralph Owen Dean of Vanderbilt's Owen Graduate School of Management. "Leadership is a contact sport. The fellowship will spark student-athletes to activate their business careers after they have finished competing on the field or court."
"We are proud to introduce this exciting new program to our student-athletes, while welcoming other student-athletes from around the nation to campus," said Vanderbilt Vice Chancellor Athletics and University Affairs, Athletics Director Malcolm Turner. "It's vitally important that we prepare young men and women for their careers and expose them to new ideas, mentors and possibilities in the business world. The Accelerator program eliminates the biggest obstacle for student-athletes – their limited free time – and allows them to create a personalized program of study to boost their career prospects. The experience will be a game-changer in their lives."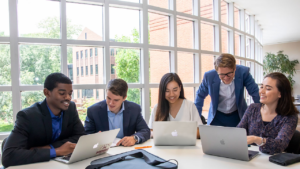 Fellows have the opportunity to add real experience to their resumes, and skills that translate to their academic, athletic, and professional worlds. This Fellowship is designed to empower student-athletes who have shown exceptional academic and professional potential, possess strong personal drive, and show an interest in career development. Fellows join an elite and supportive team tailor-made for their ambitious goals. Once established in careers, Fellow alumni will serve as mentors to the current class.
Fellows, nominated by their home institutions, are highly motivated student-athletes who desire to leverage their leadership potential and have shown exceptional academic or professional potential. Program fees may be covered by partnering athletic departments at no expense to students, demonstrating the commitment of NCAA programs to academic and professional development for our next generation of leaders. The 2020 program cost includes: round-trip domestic flight, tuition and program materials, on-campus housing, all meals and nutrition, access to fitness facility, and group transportation (if applicable).
To nominate student athletes or request specific information, please contact Accelerator Director Greg Harvey at Gregory.Harvey@vanderbilt.edu. For more information about the fellowship program, click here.
"For years, student-athletes have been asking for an opportunity to strengthen their talents off the field, specifically in the world of business. I truly believe that this Accelerator Program is a productive step towards fulfilling that need. Fellows will be given the opportunity to challenge themselves in unique ways, network with like-minded student-athletes, and gain real-world experience to push them ahead of their competition. This program has been thoughtfully developed and will allow student-athletes to take advantage of important resources that were once out of reach. It is an opportunity that I wish was available when I was in school. Trust me, you won't want to miss it."
—Oren Burks, Former Vanderbilt football player, Current member of the Green Bay Packers
"The Accelerator program is a great opportunity for student-athletes to garner experience, develop networks, and learn from mentors. This invaluable opportunity to not only learn from some of the leading professors in the world, but to collaborate with other student athletes from different backgrounds, will unequivocally prepare them for success in the professional world. This program will help student-athletes as they transition into life after competition and prepare them for their careers. I'm excited to see the steps being taken to prepare student-athletes for life after sports."
—Simone Charley, Former Vanderbilt soccer player & track athlete, Current member of Portland Thorns of the National Women's Soccer League
"Accelerator – Business Immersions at Vanderbilt are the most hands-on business programs in the country. Leveraging student-athletes unique collegiate experience, the fellowship will enhance each student's business skills, drive and leadership. Fellows will be able to tackle new challenges, successfully launch careers in business and prepare for life after athletics."
—Gregory Harvey, Director, Accelerator
"Student-athletes have a double-layered expectation on their leadership: perform on the field, in business, and in our communities. Our fellowship program promises tools for impact to student-athletes as they look toward mission-driven careers and lives. Our student-athletes work hard and are committed to the communities that have supported them. We seek to further equip these leaders with the business acumen and network to complement their passion to maximize their impact."
—Mario Avila, Director, Turner Family Center for Social Ventures