Cosmopolitan Week has become an annual event where Vanderbilt Business students can expand their horizons by learning more about different cultures around the world
By Jong Eun Jung
As the world of business becomes increasingly global, understanding different cultures has become vital to success. That's why Vanderbilt Business School students founded Cosmopolitan Week, a week of programming created to bring the domestic and international worlds together through events where international students introduce their countries and cultures to the student body.
Cosmopolitan Week was founded last year by Cally Biagini (MBA'19) and Aki Ota (MBA'19). The two students studied abroad in Vienna, and their time there led them to the idea of introducing diverse cultures and experiences to Vanderbilt Business students.
"You can get lost in a lot of schoolwork and everything… so this is one way of just… opening (students') eyes to see how broad their program is and how diverse the students are," said Ermias Berhe (MBA'20), one of the lead organizers of this year's event. "Sharing both knowledge and experience and culture — that is the core meaning and a bigger umbrella (of Cosmopolitan Week)."
International Students' Perspective
The international students who present throughout the week have the freedom to introduce their countries through photos, videos, music, and food. Last year, a student from India discussed common misconceptions about his country and addressed each one in a Mythbusters-like format. "It's this chance for those students who are presenting to have a new way of getting to know people, because on a day-to-day basis in class, people aren't always able to tell each other their life story," said Keara Kelly (MBA'20), a lead organizer of this year's programming.
"We consider ourselves a close-knit school community. And so to have this event where we physically have literal closeness (led to) a special feeling in the atmosphere." -Keara Kelly (MBA'20)
Domestic Students' Perspective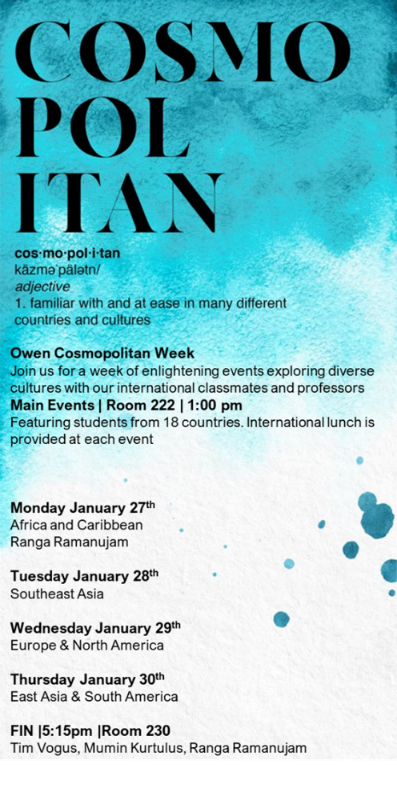 On the domestic students' side, Cosmopolitan Week is a way to understand students and cultures from outside the United States. Since American students have the opportunity to experience different countries through the international students' presentations, Cosmopolitan Week helps close the gap between the two student bodies. "For the students that are here, it is one way of knowing the international student body and understand(ing) what kind of experience they're having right now," Berhe said.
Faculty's Perspective
Students are not the only Vanderbilt Business population who take part in Cosmopolitan Week — the faculty participates as well. Last year, Richard M. and Betty Ruth Miller Professor of Management Ranga Ramanujam kicked off the week by conducting a survey of domestic and international students about their experiences of diversity and inclusion, then presenting the results. Brownlee O. Currey Professor of Management Tim Vogus and Associate Professor of Operations Management Mumin Kurtulus shared their personal stories as part of a Humans of Owen event at the end of the week. This year, professors will once again take part in Cosmopolitan Week and host another Humans of Owen event to represent the diversity in the faculty.
Cosmopolitan Week 2020
Because last year's programming had been so popular, several student leaders, including Berhe and Kelly, took the initiative to plan out a Cosmopolitan Week for this year. "I think it just felt like this really neat way for people to discover each other," Kelly said. Cosmopolitan Week 2020 will be held on January 27-30. Eighteen countries will be represented, and 24 students will share their cultures with the Vanderbilt Business student body. Cosmopolitan Week is made possible through generous funding and support from groups including the Owen Student Programs Office, Dean's Office, Diversity & Inclusion Advisory Board, Owen Student Government Association, the Asian Business Association, and the Global Business Association. See above for this year's schedule.