Launched in 2005, the MSF program at Vanderbilt Business School has enjoyed 15 years of exceptional employment outcomes
By Randy Horick
As he neared graduation from college — too late to change his major — John Lewis developed an interest in business and finance. He describes his undergraduate alma mater as having "a fantastic reputation but little brand recognition," and concluded that he would need an additional credential to land a position in the competitive finance industry.
Since he hadn't yet launched a career, Lewis ruled out pursuing an MBA; instead, he began exploring other educational options. "I grew up in Dallas and had a lot of friends who went to Vanderbilt," he says. "Vanderbilt has a lot of recognition."
Lewis discovered a brand-new offering at the business school at Vanderbilt — a specialized program that could help jump-start a finance career. Once he visited Vanderbilt, he recalls, "I loved the idea of being here with this great finance faculty." He applied to only one other program — at Oxford — but Vanderbilt, he says, "was just better for a lot of reasons, especially for getting employment in the U.S."
In the fall of 2005, Lewis officially became a member of Vanderbilt's inaugural Master of Science in Finance class. The program, in turn, became the first in a series of market-driven, immersion-based programs that began to flower at the school during the latter half of that decade.
As Nick Bollen, Frank K. Houston Professor of Finance, recalls, conversations among the faculty about launching a new Master of Finance began around the 2003-2004 academic year. "Several other finance departments had created MSF programs," he says, "and we thought starting one could offer a number of benefits, including supporting a larger finance faculty, offsetting a decline in MBA enrollment, and attracting a new type of student who would enjoy studying with us."
Professors Cliff Ball, who served as the first faculty director and retired in 2017, and Hans Stoll played guiding roles in giving the new program its distinctive shape. They were excited by the prospect of offering courses in advanced econometric techniques, programming and technical electives — all of which aligned with their interests.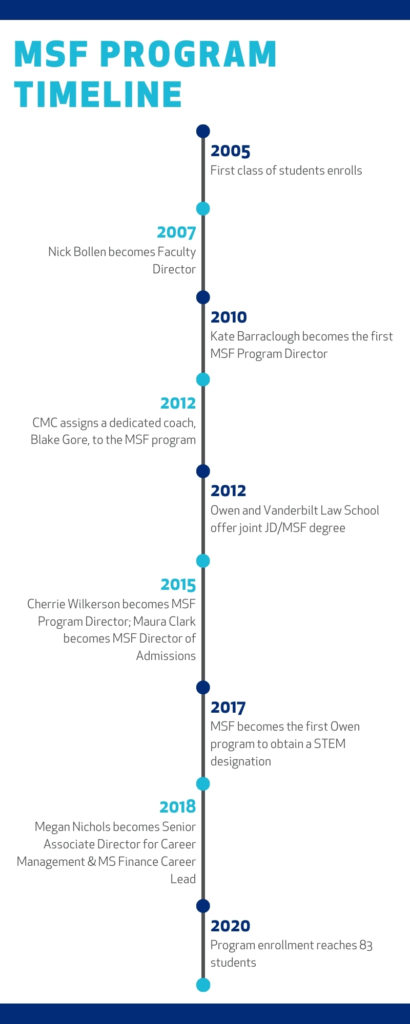 Most MSF programs at the time, Bollen notes, were heavily quantitative. "Our vision was to recruit students completing their undergraduate degrees in engineering, science, or economics, and then complement their skill set with a year-long immersion in finance coursework. Then they would be prepared for a number of financial positions, including trading, valuation, and risk management."
In many ways, Lewis embodied what the kind of student the program's designers had in mind. By the time he arrived on campus, he knew he wanted a career in real estate finance. The program's core courses, combined with electives, he says, "gave me a very strong finance background with real estate." Through Owen, he was able to land an internship with a commercial mortgage broker, and that in turn led to a job offer at graduation with a Goldman Sachs subsidiary. He's now been with Goldman for 14 years.
Since that initial class, the MSF program has continued to evolve to better meet the needs of the marketplace. Based on student feedback, in 2008, Bollen redesigned the fall semester — most notably, with an introductory finance immersion course that met prior to orientation which helped students hit the ground running when classes began. In 2011, the Career Management Center began providing pre-orientation programming to prepare students further for the job market.
"The CMC begins working with the MSF class in March (before the school year starts)," said Megan Nichols, Senior Associate Director at the Career Management Center. "This early start is what enables our students to be successful in the job market — finance recruiting, especially investment banking and consulting, begins right away, so students need to arrive on campus ready to talk to alumni and employers. Our students continue to beat the odds, landing roles at some of the top financial institutions in the world."
Recognizing a growing demand among law students interested in transactional law, such as mergers and acquisitions, Owen and Vanderbilt Law School worked together to launch a joint JD/MSF degree in 2014. In 2017, MSF also became the first program at Owen to obtain a STEM designation, which enables international students to extend their work visas for two additional years.
One-year graduate programs represent an increasingly important sector of business education. Students are attracted to the focused curriculum and lower financial and opportunity cost relative to traditional 2-year degrees. The MSF serves a different population than the MBA program, which caters to individuals with roughly 5 years of work experience, and so adds to the portfolio strategy pursued by the school.
"Students who know that they want to pursue a finance career after college often find that they can reach a higher rung on the career ladder by investing 10 months in practical finance education," said Cherrie Wilkerson, Assistant Dean for Young Professional Programs. "Along with graduate-level finance, students gain access to personalized career coaching to connect them with the right job.  It is a powerful combination."
As the program reached its 15th anniversary, 64 students from 12 countries and 34 universities were set to accept positions in investment banking, financial consulting, asset management, and other fields. They also became part of a growing network of Vanderbilt MSF alumni.
"Students bond quickly with both their classmates and the alumni community. These alumni create lasting relationships — some have even gotten married! We are so honored that our alumni stay connected with staff and faculty; they are integral to career outcomes and stay very involved with the program after graduation," said Maura Clark, Director of Admissions for the MSF Program.
For his part, Bollen looks at student satisfaction, employment outcomes, and application flow — all of which he describes as "excellent" — and anticipates continued growth and success for the program. And while there will no doubt be new changes as part of an ongoing process of improvement, the value proposition to students remains much the same as it did for John Lewis in 2005.
"I've always thought the MSF program was phenomenal for anyone who wanted to be in finance but came from a different background," Lewis says. "For me, it more than leveled the playing field with anyone who came out of undergrad with a business or finance degree. When I left Vanderbilt, I felt well-positioned to hit the ground running in the real estate private equity business."
Current students feel the same way and look forward to seeing where the MSF program will take them. "Vanderbilt is much more than its reputation on paper — it is a school filled with staff who care not only about your professional success, but also your personal success. A school filled with students that you lean on, learn from, and thrive with," said Taylor Mathis (MSF'21). "It is filled with experiences that will last a lifetime, including the experience of receiving your full-time offer!  Vanderbilt is a school for those who hustle, yet are humble, and I am thrilled to be a part of the 15th class."