Samantha Givens (MBA'21), Executive Vice President of OBSA, reflects on the past month of programming
By Samantha Givens (MBA'21)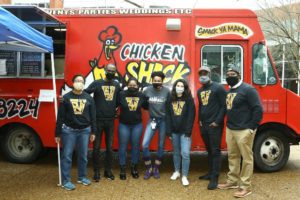 Even as the country continues to face 2 viruses — COVID-19 and racism — that disproportionately affect the Black community in the U.S., the Owen Black Students' Association (OBSA) sought to create experiences of reflection, pride, and joy for Black History Month in February. Our celebrations were crafted to uplift the Black community and to share our resolve, history, and zest for life with others. In a year quite unlike any in recent memory, the Owen Black Students' Association sought to make our Black History Month celebration one of reverence, recognition, power, and fun. In several ways, we celebrated our history, our progress, and the bright futures ahead of us.
To kick off Black History Month, OBSA hosted a virtual Zoom Black Jeopardy game. This served as a fun avenue for teams to go head-to-head in demonstrating their knowledge of Black history across categories such as "Black Pioneers" and "What's Cooking." The experience was fun for all, and many attendees expressed that they learned many new facts about Black historical figures and modern-day contributions to society that they had never heard before. A mix of education and joy, the Black Jeopardy event was a hit with all who attended.
Mid-month, we had the delight of hosting Deloitte Global Chief Information Officer Larry Quinlan for a speaker event where he discussed issues of race, diversity, and inclusion in corporate leadership. Mr. Quinlan spoke to Owen students, staff, and faculty about how, as he put it, "a skinny black kid from an island of 35,000 people [became] the global CIO of the world's largest professional services firm." He also tackled how Black employees specifically and minorities in general need different sponsorship opportunities, support, and role models from corporate America. His poignant analysis of how minorities often face a crisis of confidence in corporate America — and the leap-of-faith approach that he took to overcome that sense of not belonging — provided us with hope that we could continue with that same momentum that propelled him and become future trailblazers ourselves.
The finale to our Black History Month celebration was a multi-hour event the last Friday of February. After getting the necessary approvals and ensuring COVID safety precautions at every step of the way, OBSA was given the green light to host an in-person event! The event highlighted local Black-owned and operated food trucks and restaurants and provided meals and cookies to all attendees at no cost to them. We also had our very own DJ and OBSA board member, Nimi Ajayi (MBA'22), bringing energy throughout the entire event.
As important as it was for us to have fun and celebrate, we also wanted to use this event as an opportunity to give back to the Nashville community. As our beneficiary, we selected a local non-profit called Gideon's Army, which is a community-based, grassroots organization that uses restorative justice programs to dismantle the school-to-prison pipeline through social activism by children, families, and the community. We were able to raise over $340 for the organization during the event. Additionally, the Dean's Office partnered with the OBSA to take signups for free tickets to the newly opened National Museum of African American Music in Nashville. The event was a hit among students, staff, and faculty and left us feeling incredibly supported by the Owen and greater Vanderbilt community.