Information on the program and its benefits for eligible veterans
By Mackenzie Burckbuchler
If you are a veteran looking to embark on your business school journey, the Yellow Ribbon Program might help you finance your degree at a private institution. The Yellow Ribbon Program is a provision of the Post-9/11 GI Bill. For those veterans eligible for the Post-9/11 GI Bill Benefits, the Yellow Ribbon Program can provide additional tuition support for higher education, including undergraduate and graduate studies. Specifically, the Yellow Ribbon Program helps veterans finance their out-of-state and private school degree programs. 
Higher education is an investment, and this program aims to reduce those costs and support veterans as they look to advance their professional career. With more financial support, veterans can choose the school and program that best aligns with their career goals. "The Yellow Ribbon program is an accelerant for existing GI Bill education benefits and provides a springboard for Vets looking to transition into a new career through competitive, private institutions," says Ford Duncan (MBA'22), President of the Armed Forces Club at Vanderbilt Business.
Through the Yellow Ribbon Program, many private institutions, including Vanderbilt, partner with Veterans Affairs (VA) to cover tuition and fee costs above those provided by the Post-9/11 GI Bill. After applying for Post-9/11 GI Bill funds, veterans can then apply into the Yellow Ribbon Program.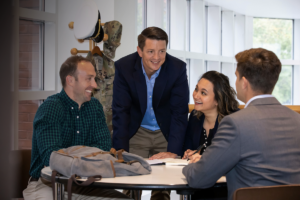 The VA offices and private institutions then work together to jointly fund tuition expenses so that the out-of-pocket cost to veterans is reduced significantly. If the private institution participates in the program, they will waive a set amount of eligible veteran tuition, and the VA matches that waived amount; both the institution and the VA fund the program. 
When soldiers are deployed, the yellow ribbon serves as a symbol of support from families and loved ones. Naming this program after the yellow ribbon again signifies the continued support of our troops. "Funding for any graduate program is always a huge barrier," said Sue Oldham, Associate Dean of MBA Program Operations at Vanderbilt Business. "The Yellow Ribbon Program specifically helps our military veterans use their hard-earned military benefits which will most often cover the entire cost of the program." 
How do I determine if I am eligible? 
Those veterans that are eligible for 100% of benefits under the Post-9/11 GI Bill will also be eligible for the Yellow Ribbon Program benefits. To determine eligibility, students should apply for a Certificate of Eligibility (COE) with the VA. The GI Bill Comparison tool will then provide an estimation of benefits. Actual award amounts vary based on school, and awards are granted on a first-come, first-serve basis. Schools may have caps on the maximum students and maximum amount they will provide on an annual basis. 
Although there is no exact timeline for applying for Yellow Ribbon Program benefits, veterans looking to receive these funds should pay close attention to the admissions timeline for the program in which they wish to participate. Interested applicants are always encouraged to apply as early as possible. 
What does the Yellow Ribbon Program look like at Vanderbilt?
In 2019, Vanderbilt Business eliminated its cap on funding. As such, eligible students can now receive the maximum amount allowed by the VA for unmet financial need. Eligible students can initiate the process by filling out the Yellow Ribbon Program Application. 
Attending business school provides students with the skills and experiences needed to excel in a competitive job market. Veterans can be encouraged to join the Vanderbilt community and reap the benefits associated with attending a top-rated business school. 
Although the decision to apply to and attend business school requires thought and consideration, Vanderbilt's participation in the Yellow Ribbon Program can help eliminate some of the stress around program expenses. Importantly, the program can empower veterans and help them enter a new career phase. 
Oldham stresses the importance of this program and the opportunities it can provide. "Reentering the civilian world is oftentimes difficult and challenging for our military veterans who have spent many years in service to the country," she said. "Entering an MBA program (or a graduate/professional program) is oftentimes a great first-step to adding new skill sets and preparing to reenter the civilian workforce."