Program for Nashville Zoo staff covers a range of key management concepts and skills
By Arial Starks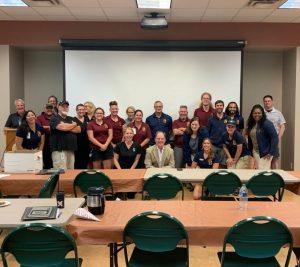 Nashville Zoo at Grassmere Vice President David Oehler saw a need for cultural and professional development among his staff and took action. As part of the Zoo's OGSM (Objective, Goals, Strategies, and Measures), Oehler says all Zoo personnel laid out their individual professional goals. After reviewing them, he found that many of these goals overlapped, which led to the Zoo's interest in a professional development training program. 
Oehler considered several options, including online training, internal mentorships, and on-grounds training. "My personal bias is that online training covers a myriad of topics, but retention is poor. We have excellent mentors here at the Zoo, and we have utilized those talents well. This did help out in terms of increased inter-departmental communications and other facets of our operations," he said.
Moreover, while he believed that all personnel could use the extra training, Oehler saw a particular need in the Zoo's Animal Division.
"The staff at the Nashville Zoo, particularly in the Animal Division, are specialists within the field and are not taught management skills in school," he said. "On-the-job training to develop those skill sets, such as resource allocations, providing developmental feedback, conflict resolution, etc., are not sufficient regarding temporal priorities to ensure that their leadership skills are developed to enhance the business of operating our Zoo efficiently and effectively."
Oehler ultimately decided to outsource and find a program that could meet everyone's professional development needs. He found that the Vanderbilt Executive Education team which includes Professor Jon Lehman, Faculty Director and Cheryl Bates, Associate Director, could build a customized training program that would allow the zoo to scale its efforts. 
"We do not need all of our staff to be business experts but to have an adequate level of critical financial, operational, and management skills," he said. "That is when I came across the Vanderbilt program, and it touched on many of the topics that were identified as important to our staff. After speaking with Cheryl and Jon, it was clear that we had come across a collaborative program where we could grow and expand the skill sets of the staff in a positive way."
Through the Vanderbilt Custom Solutions program, Vanderbilt's Executive Education team is providing the Zoo staff with a 6-part, 2-hour module series of impactful discussions focused on a broad range of key management concepts and skills. The following modules are included in the series: Importance of Culture, Effective Communications, Speaking the Language of Business, Self Awareness, Strategic Thinking and Effective Leadership. The Executive Education team meets with staff monthly at the Zoo.
Oehler's ultimate goal with this partnership is to "develop a specialized staff to become better leaders of the Nashville Zoo and within the zoo and aquarium industry."
 He believes the partnership has allowed the Zoo to not only invest in its team, but it has also created a space where the staff feels valued and is giving them the opportunity to excel in an industry they already feel passionate about. 
"We will need to wait to see the long-term benefits of the program, but I am confident that this and future training opportunities will be coming," said Oehler. "Each session allows the team to understand how to take on more responsibility and develop skill sets to succeed on a more holistic level to meet the Zoo's vision and goals.
"Having these pathways will help with the recruitment of staff, develop their skill sets, and allow for further advancement into key leadership positions."