In this edition of People of Vanderbilt, we spotlight MBA student Antonia Forte (MBA'23).
By Arial Starks
Vanderbilt Business is known across the globe for its high caliber of students, faculty, and staff. In this edition of People of Vanderbilt, we spotlight MBA student Antonia Forte, who shares a little about herself.
Who or what empowers you at Vanderbilt?
The people. From my LDP coach to my peers, people are what bring places and programs to life, and we are fortunate to have many unique, talented, and compelling individuals here at Owen!
What's your favorite way to connect with the Vanderbilt community?
My favorite way to connect with the Owen community is through food, wine, and art! I enjoy going out to Nashville's great restaurants with classmates, sipping wine on summer evenings at apartment rooftops, and organizing artistic activities for classmates to participate in.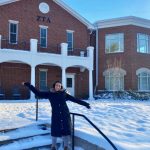 What's something you've learned about yourself during your time at Vanderbilt?

Though I still appreciate quiet alone time, I have learned how much I rely on others for my happiness. Supporting peers and faculty, attending social activities, or even talking on the phone with classmates regularly has reminded me just how much I enjoy meeting new people, building relationships, and bringing people together.
Looking forward, what are you most excited about this year?
Having my bearings! Though being in a new place can be exciting, I am looking forward to enjoying Nashville as a more relative newcomer than an actual newcomer. I plan on continuing to check off restaurants and activities while making time to revisit favorites.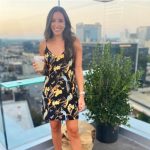 Are you in a leadership role associated with Vanderbilt? If so, name the organization and title.

I may have overcommitted myself to leadership roles for the upcoming year. I am serving as President of the Owen Marketing Association, VP of Communications for the Owen Venture and Entrepreneurship Club, and VP of Internal Affairs for the Women's Business Association. In the upcoming year, I plan on growing as a leader…and learning to say "no" when I have signed up for too much in the future.