In this edition of People of Vanderbilt, we spotlight MBA student Michael Ruth
By Arial Starks
Vanderbilt Business is known across the globe for its high caliber of students, faculty, and staff. In this edition of People of Vanderbilt, we spotlight MBA student Michael Ruth, who shares a little about themselves.
What's your secret talent?

My secret talent is meal prepping and bringing people together over food.
Who or what empowers you at Vanderbilt?

This is a tough question mostly because for me, empowerment comes from a few different avenues. In particular, the amazing staff in the leadership development team, professors, the wonderful crew in Academic Student Affairs, and a lot of recognition in particular to a wealth of amazing classmates, in particular my relatively new and close friends that I work alongside within Out & Allied.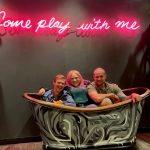 What are 1 or 2 experiences that have really shaped your time here at Vanderbilt?

Participating in Professor Cohen's 'Project Israel Course' was a huge highlight. I was fortunate enough to have an amazing team, a great client and a product with an opportunity for immense impact. Additionally, I would say Professor Ranga's 'Managerial and Organizational Effectiveness' (MOE) course. Both were instrumental and defining experiences to my first year, but there are so many more.
What's your favorite way to connect with the Vanderbilt community?
My favorite way to connect with the Owen community will always be over food. There are some great restaurants in the Nashville area, and I feel nothing brings people together like good company and great food!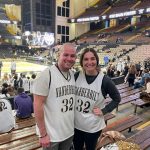 What's something you've learned about yourself during your time at Vanderbilt?

This year has been an immense learning experience in a lot of different areas, but one thing in particular that I've learned about myself is that my tendency to give up my personal time to try and fit in more work only ends up making me less effective in the long run. Boundaries and self-care are critical to succeeding, not just here at Owen.
Looking back on your time here at Vanderbilt, what is one of your favorite memories, activities, or rituals?
Closing Bell is always something to look forward to, but Cap Ball will probably 'take the cake' among favorite memories. That's mostly because it was close to graduation, a chance to see everyone all dressed up while having a fun night with so many peers and second years that had such a large and positive impact on my experience at Owen thus far.
Looking forward, what are you most excited about this year?
Collaborating with a lot of my passionate classmates to make a positive impact on the Owen community, between both Out & Allied and student government and also paying forward what a lot of second years provided us through endless coffee chats, guidance, case sessions and moral support in general.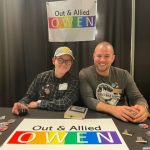 Are you in a leadership role associated with Vanderbilt? If so, name the organization and title.
I have the privilege of working alongside some of my best friends here as president of Out & Allied as well as a senator for student government.