New Assistant Professor of Strategy studies how firms can best compete and innovate in high-tech industries
By Lacie Blankenship
Vanderbilt Business welcomes Sruthi Thatchenkery, Assistant Professor of Strategy, as one of 6 new additions to the faculty, effective fall 2022.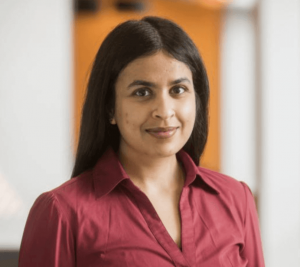 Thatchenkery's research sits at the intersection of networks, competition, and innovation. Her primary studies explore how firms can best compete and innovate in high-tech industries. Specifically, she investigates how managers' perceptions of competition influence product innovation and collaborative relationships. 
"I naturally gravitated to studying strategy; I am a little competitive as a person," says Thatchenkery. "I have a natural interest in questions like 'how do you win?' and 'how do some firms do better than others?"
Thatchenkery has also studied how digital platform regulation changes influence innovation and financial performance, and how medical device startups can effectively work with physicians during the innovation process. 
Thatchenkery comes to Vanderbilt from University College London, where she spent 6 years as an Assistant Professor of Strategy and Entrepreneurship. Before pursuing academia, Thatchenkery worked in economic consulting and specialized in antitrust and intellectual property litigation.
"I was born the month after my dad started his PhD, so I would say I kind of grew up on college campuses," says Thatchenkery. "I spent a lot of time in his department when I was a little kid and often spent my summers on campus where he was a faculty member; it was pretty natural that I ended up pursuing a career in academia." 
She received a BS in Economics at Duke University and completed her PhD in Management Science and Engineering at Stanford University. 
Thatchenkery's work has received recognition for various honors, including the Best Paper awards from the Industry Studies Association. Her doctoral dissertation was named the Wiley Blackwell Outstanding Dissertation Award from the Strategic Management division of the Academy of Management. 
Thatchenkery will teach Strategic Management of Technology in Mod 2 and Innovation Strategy in Mod 3. 
"I love the flexibility of being able to pursue questions that I find interesting, in research, and in the classroom," says Thatchenkery. "I like that we [professors] get to be like entrepreneurs in the way we direct our own research and direct our own teaching."  
Outside of work, Thatchenkery enjoys playing video games on PlayStation and PC. She also enjoys pub trivia and looks forward to exploring the Nashville trivia scene.