Owen students start the 2022-2023 academic year by returning to Management Hall during the first phase of opening
By Nathaniel Luce
The $55 million renovation and expansion project of Management Hall is in its final months, and Phase 1 of the building's opening is underway. Vanderbilt Business welcomed students back into the building at the beginning of Mod 1.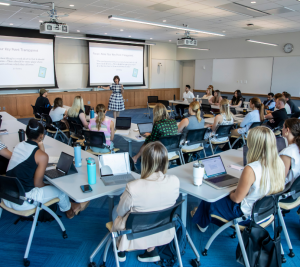 With the first and second-floor lobbies, classrooms, team rooms, and library open for use, the community has flocked to Management Hall with the traditional energy that comes at the start of the school year. 
"Students are everywhere; the utilization is so high," said Lindsay Donald, Chief of Staff and one of the leaders of Owen Onward, a team established to help manage the construction-related transitions related to the project. "Even in this temporary state, students are constantly booking the team rooms, meeting in the lobby, and working in classrooms on the second floor." 
Faculty and student-facing staff are utilizing the new office suites on the first and second floor to hold office hours and meetings. 
"Phasing into the building is an opportunity for us to embrace the collaborative Owen spirit and focus on flexibility," said Donald. "This temporary situation will make us appreciate the entire building even more." 
Donald noted how excited students and faculty are to be in the building, especially faculty who worked in the old Management Hall. "Bill Christie, Frances Hampton Currey Professor of Management and Dean (Emeritus), is like a kid in a candy store, and it speaks to the growing legacy we have here at Owen."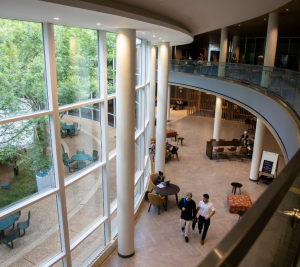 The last months of construction will be on the 3rd and 4th floor, the Great Room, and the main entrance. "I am thrilled to have the building open in its full capacity in January and am especially thrilled about seeing the complete Great Room," said Donald. "It's going to be showstopping." 
The opening phase already offers passersby a strong glimpse of the building's intended promise – to stand as a front door to Vanderbilt for the Nashville business community. "This building shows the investment and importance of our community," said Donald. "We're out in front and ready to interact with the business community at large." 
To learn more about the facts and figures on the largest project in Management Hall history, click here.