A look into a typical day in the life of a Master of Accountancy Student
By Arial Starks
A Master of Accounting program equips students with the tools they need to successfully speak the language of business across any industry. If you are considering a MAcc degree, you may be wondering what life looks like in a program. Vanderbilt MAcc candidate Lily Nolan walks us through a typical day in her life.
 6:30AM: Starting the day
Nolan typically wakes up around 6:30 AM and starts her morning off at a local gym. After a quick work out, she heads home for some breakfast before heading to campus for class. 
9:00AM: Off to school

Nolan's classes begin at 11:30AM on Mondays and Wednesdays and 9:45 AM on Tuesdays and Thursdays. She is currently taking Financial Reporting, Managerial Economics, Data and Analytics in Business, Taxation of Business and Investment Transactions, and Research in Financial Reporting. She really enjoys interacting with her classmates.
"Owen is a really special place in a way that most of our classes are group work-oriented and collaboration-focused," said Nolan. "I personally really love that everyday I am able to engage with my peers. Because we come from different backgrounds and majors from undergrad, it's very intellectually rewarding to solve problems with my peers."
12:00PM: Recruiting efforts and class assignments 
During MOD 1, Nolan's day had a bigger emphasis on recruiting and landing a job, so in between classes, from around noon until around 1:00PM, she would use that time to network with Vanderbilt MAcc alums and leverage her connections with the Big 4 firms.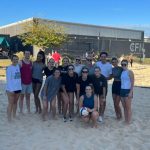 "In the month of September, about once a week around 6-7pm, we would have a social with one of the firms (PwC, Deloitte, KPMG, and EY)," said Nolan. "This was a great networking opportunity to meet people from the Nashville office, and other offices. I also had the opportunity to learn what differentiates each firm and learn more about what auditing looks like in practice."
She adds she had several interviews to work into her schedule during recruiting, "when it was time to interview, each interview was two 30-minute back-to-back interviews with each company." "I scheduled these around when I had class. The entire process was very fast-paced but it paid off for everyone, as all my classmates and I secured an internship or a job offer," Nolan added.
Nolan takes time to lunch, meet with her peers for group assignments, and/or attend office hours with her professors. If she needs a quiet place to do any of these things, she likes to utilize the study rooms upstairs in Management Hall.
"I try to pack my lunch everyday, but if for some reason I don't, I enjoy going to Chipotle or Cava across the street," she said.
5:45PM- Outside the Classroom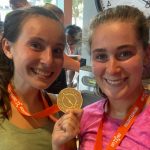 Nolan spends much of her time after class preparing for her upcoming Audit internship with PwC in New York City. She also serves as a student admissions coordinator for the MAcc program.
"About once a week, myself and the other admissions coordinators get together with our program director Emily Odell, and we update each other on which candidates we are interested in and we come up with creative ways to get the admitted students involved," she said. 
Outside of school work, a lot of her days involve exploring her new home. 
"I'm pretty new to Nashville – I'm from the northeast – so outside of my schoolwork, I really try to explore the city and try new places to eat and socialize with friends, which has been really cool because there is so much to do here," said Nolan.