In this edition of People of Vanderbilt, we spotlight Alex Lutz
By Arial Starks
Vanderbilt Business is known across the globe for its high caliber of students, faculty, and staff. In this edition of People of Vanderbilt, we spotlight Master of Science in Finance student Alex Lutz, who shares a little about herself.
What's your secret talent?

I am amazing at arcade claw machine games. I can win almost every time!
Who or what empowers you at Vanderbilt?

I am constantly empowered by the women I meet and interact with at Owen. We are all so powerful in our own ways, and I find that each woman who breaks into this male-dominated industry inspires all of us.
What are 1 or 2 experiences that have really shaped your time here at Vanderbilt?

It's hard to choose just a few moments, but one that stands out was during Mod 0. The MS Finance class had just met each other, and we had to prepare our personal brand pitch to present to the class. After sharing that I am a cancer survivor, many of my peers (who barely knew me) made it a point to come and thank me for sharing that with them. I felt truly seen and heard by the members of my class and knew these were people I could count on.
What's your favorite way to connect with the Vanderbilt community?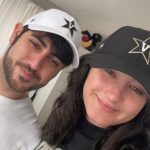 Honestly, just going to class and seeing all my peers who are just as eager to learn as I am is a great way to connect. Hearing their thoughts during class discussions has broadened my perspective and helped me gain insight I had not previously considered.
What's something you've learned about yourself during your time at Vanderbilt?

I have learned not to compare myself to my peers—each of us is going down our own path, and we can all be successful in where we are at this moment.
Looking back on your time at Vanderbilt, what is one of your favorite memories, activities, or rituals?
I know it's cliche, but Closing Bell really is the best tradition at Owen. I look forward to it every week and love the casual nature of the conversations. It's so genuine and pure.
Looking forward, what are you most excited about this year?
I am most excited about the elective classes I can choose from for Mods 3 and 4. I am really looking forward to finding new aspects of finance that excite me.
Are you in a leadership role in association with Vanderbilt? If so, name the organization and title.
I am a Student Admissions Coordinator (SAC) for the MS Finance program.