A look into the typical week of a Vanderbilt Executive MBA Student

By Arial Starks
The Vanderbilt Executive MBA is a 2-year program that equips working professionals with a strong foundation in leadership and strategy as well as the quantitative building blocks needed to excel in business. So what is life in an executive MBA program like? Kafrisha Morrow (EMBA' 23) shares insight into how she manages to balance a full-time job in the healthcare industry with an accelerated degree program.
7:00 AM – Starting the Day
A typical morning for Morrow usually starts off with getting in some physical activity. She walks her dog around Music Row every morning. Some mornings she will follow up by walking a few miles around various trails in the area with one of her classmates. 
9:00 AM – Work Day Begins 
Morrow works as the Provider Collaboration Director for Amerigroup in Nashville, TN. Since the COVID-19 pandemic, her company has been remote, so her work day is spent mainly at home. Her day consists of several meetings where she will virtually negotiate contracts with healthcare providers. Some days she makes visits to speak to providers in person in Columbia, TN. 
"Through my role, I have my own individual contributor responsibilities, but then I also support my Senior Director in coaching our team through different training and tasks," Morrow explained.
She adds that she has office hours once a week for staff needing additional training.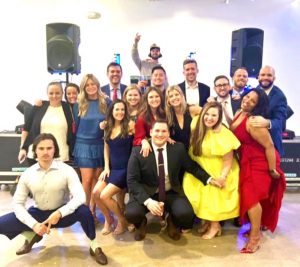 5:00 PM – Wrapping up the Work Day 
Morrow's work day ends around 5:00 PM every day. She will take her dog for another walk around music row, grab dinner, and then dedicate the remainder of her evening to any school assignments she needs to work on or meetings for group projects. On Thursday evenings, Morrow enjoys attending Closing Bell on campus. She also likes to attend academic events like Healthcare Symposiums and conferences. 
"My favorite part of my day is the connections," Morrow said. "Especially since I don't have to leave my home for work or school unless we have a residency or Saturday classes, I really enjoy connecting with my cohort."
Weekend classes and downtime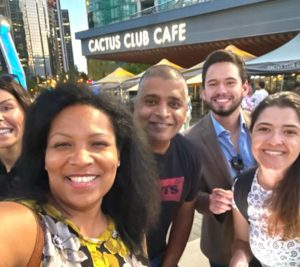 Since Morrow is on the Global Immersion track within the EMBA program, she spends every other Saturday in the classroom when she is not participating in one of the 4 international residencies the program offers. On those Saturdays on campus, Morrow enjoys grabbing a bite to eat at Helen's Hot Chicken, Chipotle, or sometimes she and her classmates will end the day at TMRW, formerly known as Ainsworth.
In her downtime, when she is not studying, Morrow and her cohort alternate houses for hosting dinner gatherings. The group also likes to meet up at Taqueria Del Sol on Friday nights, Urban Grub on Saturday nights, and sometimes brunch on Sundays. 
With a jam-packed weekly schedule, Morrow says time management is key in the life of an executive MBA student. She looks to her classmates for inspiration when she needs an extra spark of motivation.  
"At times when I may feel frustrated or overwhelmed, I know I can lean on my classmates to bring in their strong points," Morrow shared. "That motivates me to balance it all, just knowing we can lean on each other and bridge each other's gaps."