Kafrisha Morrow (EMBA'23) shares her experiences from the Nashville residency

By Eigen Escario
Ten Vanderbilt Executive MBA students participating in the Global Immersion program reunited with their cohort of 50-60 working professionals for their Nashville residency from March 31 until April 7. EMBA student Kafrisha Morrow recollected unique experiences with her cohort class for their final residency. After traveling to Vancouver, Canada; Mexico City, Mexico; and  São Paulo, Brazil, she was excited to host her new friends in her own country.
"It was interesting to see my other classmates from different countries come here and get to see the whole aspect of Music City," Morrow said. "We opened with a tour of Ryman Auditorium and the National Museum of African American Music – it was a good kickoff to give the other folks in the cohort a taste of Nashville's diverse music scene."
During their 9-day stay in Nashville, the students explored the entrepreneurship landscape supplemented by the 2 courses that they took: Global Innovation Strategy and Creating and Launching New Ventures.
"We took our Innovation course at the Wond'ry, which was a nice taste in making you want to come up with ideas for our launching the venture course," Morrow said. "Some companies will bring their staff over and talk to us to think through things, and it's awesome to know that there are companies in Nashville that are willing to do that and are not closed off."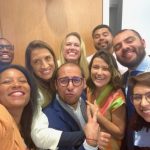 The Creating and Launching New Ventures course, taught by Michael Burcham, Faculty Director, Center for Entrepreneurship aimed to make the most out of Nashville's competitive business climate and was Morrow's favorite class. She enjoyed receiving feedback from business owners and executives in the rapidly growing city of Nashville.
"It was like Shark Tank on steroids—we only had a week to work on our venture projects, and my group ended up finishing second place," Morrow said. "There was a feedback roundtable at the end of all of our pitches, and each investor had something valuable to add after grilling us with questions that we are actually going to encounter in the market."
Morrow briefly touched on the project that her group worked on, as well as the culture of collaboration in the program.
"Our project, 'Snackification,' aimed to create an ideal snack for millennials and Gen Z, and it was going to be released to stadiums first," Morrow said. "Both courses we took were great since the professors showed up with passion, totally invested in making sure that we walked away from this program feeling like we earned our degree."
As someone who previously worked in the healthcare industry, Morrow shares her reasoning for pursuing the Global Immersion track of the EMBA program.
"I dealt with a lot of contracts and negotiations to reimburse physicians before, and I wanted to understand the value of a business foundation," Morrow said. "I think anyone would benefit from this program—everybody in my cohort walked away with some type of richness, whether it was gaining exposure to other perspectives or different ways of dissecting information."