A brief summary of the Vanderbilt Master of Accountancy program's newest incoming class
By Eigen Escario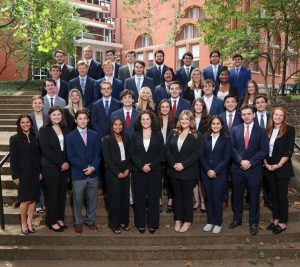 Vanderbilt welcomed its newest Master of Accountancy (MAcc) class to campus in August. Together, the MAcc Class of 2025 represents 27 undergraduate institutions—a younger class, with every student receiving scholarships for the program. The MAcc program will equip the class with the necessary tools and resources to succeed in any of the Big 4 after graduation. Read below to learn more about the MAcc Class of 2024.
Demographics
Class Size: 38
Average Age: 23
Age Range: 21 – 29
Female (% of class): 39%
Married or Engaged (% of class): 5%
Minorities (% of U.S. citizens): 11%
International Students (% of class, including dual citizenship and permanent residents): 8%
Scholarship Recipients (% of class): 100%
Academic Statistics
Median Undergraduate GPA: 3.77
Median GMAT Score: 685
Undergraduate Institutions Represented (partial list):
Belmont University

Boston College

Centre College

Clemson University

Davidson College

Franklin & Marshall College

Furman University

Lipscomb University

Mississippi State University

Rhodes College

Southern Methodist University

University of Alabama

University of Miami

University of Southern California

Vanderbilt University
To learn more about the MAcc program, click here.