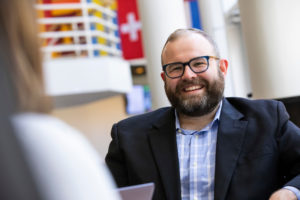 The MBA application process can seem daunting before you begin. However, if you plan your time well, you can complete your application in only a week. Below, the Vanderbilt MBA Recruiting and Admissions team shares a day-by-day guide on how to submit an MBA application in just seven days.
Day 1: Get Organized
This is the day you'll skim through the application requirements and create a checklist to guide you along your application process. First, reach out to several potential recommenders, just in case one of them will be unable to do it. Next, fill out the part of the application that requires your name, employment information, activities, etc. If you haven't already, order your transcript and test scores.
Day 2: Resume Building
Resumes set the stage for the application. "Keep in mind that the resume is the first thing that the admissions officer usually looks at. So you want to make sure that it leaves a lasting impression of yourself," said Kim Killingsworth, Director of International Recruiting and Relations.
Start off by brainstorming your responsibilities and achievements. Focus on your achievements — you want to quantify the results of your efforts by being very specific: for example, say you "led a team of 10" and "increased sales by 150%" instead of "managed people" or "improved sales." Next, research different resume formats, choose one, and begin filling in the template. As you draft your resume, include everything since this stage is just brainstorming — you'll cut your resume down to a page on Day 4.
Day 3: Work on Your Story
Sue Oldham, Associate Dean of MBA Operations, advises that "for your essays, remember that you are telling your story. Your story is unique to you and no one else has your story. Take pride in your story. Own your story. Pull your story together. Everything has happened for a reason to get you to this point. Being able to put the puzzle pieces together and tell your story showcases your creativity, purpose, and future drive." And for your essay, "the most important part of your story is how the Vanderbilt MBA can be a part of your story!"
As you draft your statement, it's also beneficial to drawn on any interactions with the school: checking out their website, talking to current students, or visiting campus. This shows that you've done your research and are genuinely interested in this specific program.
Day 4: Look with Fresh Eyes
You're halfway there! Today, you'll edit your resume down to one page. As you decide what to keep and what to leave out, remember how important it is to highlight your transferable skills.
Once you're done editing your resume, go back to your personal statements and make sure you answered the questions completely and didn't go off topic. Being focused and concise is key in this section of your application since you have a tight word count.
Day 5: Complete Checklist Items
Review the checklist you made on Day 1 again and finalize any items you haven't completed, including your recommendation letters. The application will also likely require that you film a video essay in addition to your written statements.
"The video is your opportunity to shine. Be yourself and take your time. We are looking to get a sense of how you'd be in front of a potential employer, but it should be fun," said Ashley Lomax, Assistant Director of Recruiting and Admissions and Lead Diversity Recruiter.
Practice recording yourself so you'll get used to sitting in front of a camera before you have to make the final version. After completing the video essay, upload the essay as well as your transcripts, then go back and proofread the whole application.
Day 6: Grab a Friend (Or Two)
The finish line is near. Call a friend or two, order some food, and have them read your essay responses. Don't tell them what the questions were ahead of time; have them guess to make sure you stayed on topic. If they're not able to guess the correct questions, go back and tweak your essays. If they're willing, it's also helpful to get an extra set of proofreading eyes on the other parts of your application.
Day 7: Submit
Give everything one last look. Take a deep breath, then hit submit and pay your application fee. Congratulations! You've made it through the week of completing an MBA application. It's time to celebrate and relax, so go out to a nice dinner or watch your favorite TV show for some well-deserved rest.
For a more detailed explanation of each step of the application process, please contact a member of our Recruiting and Admissions Team.