Nasdaq CEO Adena Friedman, MBA'93, uses her finely honed product management experience to keep the company competitive in a rapidly changing industry.
Nasdaq CEO Adena Friedman, MBA'93, uses her finely honed product management experience to keep the company competitive in a rapid changing industry.
If anyone value of a business degree, look no further than Nasdaq CEO Adena Testa Friedman.
At nearly every step of her career, starting as an intern at Nasdaq after graduating with her Vanderbilt MBA in 1993, she has consistently drawn on the skills she honed in Management Hall. From working through real-world business cases in former Owen professor David Rados' marketing class to learning about valuation models with Bill Christie, the Frances Hampton Currey Professor of Management in Finance, Friedman says her business education has played a vital role in her success.
"If you want to make it to the top of an organization, and if you want to have a broad mandate, an MBA is the best education that you can bring to the table," says Friedman, who assumed the CEO role at the start of 2017. "If you need to hire someone with legal expertise, you hire a lawyer, but if you're looking for someone who's an up-and-comer who brings a variety of financial and business skills, and someone whom you want to bring up the organization, you hire an MBA."
I felt like Owen was the first time I went to school every day and loved everything I was learning.
Yet, Friedman's introduction to a graduate business degree came about almost by accident. The summer before her senior year at Williams College, the political science major assume she was destined for a career on Capitol Hill and secured an internship at Al Gore's Senate field office in Nashville. In part, she came to be with her boyfriend at the time (now husband), Michael Friedman, JD'93, who had just completed his first year at Vanderbilt Law School. Once she returned to Williams for her senior year, Friedman's perspective had shifted dramatically.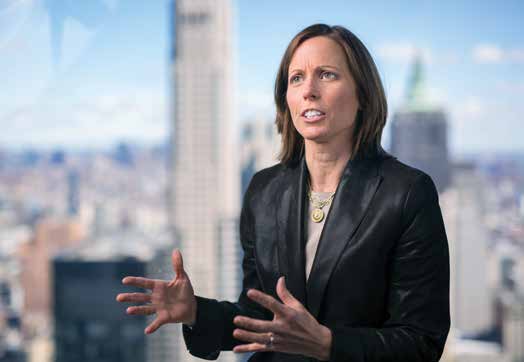 "I think I realized a few things," she says. "I asked, what's the first job you get out of college when you come and work on the Hill? some others in business school, she didn't have to put herself above others to make it to the top." Christie recalls Friedman as someone who made a lasting impression. "I remember her being exactly the kind of person she is now, which is intense, but in a really good way," Christie says. "She always knew what she was talking about. She was very articulate and just a joy to be around."
While Friedman took her share of finance classes, she found herself increasingly drawn to marketing, specifically product management. She says the "four P's" of marketing (pricing, promotion, place and product) offered her a window through which she could better understand the inner workings of a business. "I just found it so fascinating," Friedman says. "At the end of the day, I look at being a product manager like being the CEO of your own little company within a larger company."
Most people who become product managers, however, oversee sales of consumer products like cereal or dish soap. That held no interest for Friedman. Instead, she took a cue from her father's career at T. Rowe Price and started thinking about how to apply the skills she'd learned as a product manager t the financial services industry "That's when I got the idea that Nasdaq is a little bit more like a product company," Friedman says, adding that she targeted her post-MBA job search for the Washington, D.C., area. "The product is the market. Is there a way for me to get involved there?
Charting a career at Nasdaq

When Friedman joined Nasdaq in the summer of 1993, at first as an intern, the company itself was in the midst of explosive growth that had transformed it from an automated quotation system used by a patchwork of broker-dealers to one of the world's most dynamic financial exchanges.
Despite the heady times, Friedman's first boss pointed her to a sleepy corner of the business that involved marketing a handful of trading products for which Nasdaq had received SEC approval, though the company hadn't done much with them.
"We'd built up all these systems and different capabilities for clients, but we hadn't really optimized them from a product perspective," Friedman says.
Drawing on her MBA education Friedman wrote a business plan mapping out a successful sales strategy. By the time she turned 27, Friedman had become a product manager overseeing three new Nasdaq products. After McKinsey & Co. helped reorganize the company in the late 1990s, Nasdaq was left with four distinct divisions: trading, listing, indexing and data. Out of that new structure, Friedman was tapped to lead the data division in 2000. "Becoming head of the data product division was, on the one hand, a big step. But on the other hand, it was very much a continuation of what I had been doing," she explains, "which was to develop products and bring them to market, price them, promote them, and make sure they're being distributed the right way."
At the end of the day, I look at being a product manager like being the CEO of your own little company within a larger company.
Friedman's CEO predecessor, Robert Greifeld, was appointed in 2003, and one of his first priorities was to change the way.It's basically that you become a database entry person, at least back then. You'd take all those postcards and letters people would write and just enter them into databases all day long. "That didn't sound particularly compelling and, literally at the time, the pay was $15,000 a year. You couldn't earn a living. That was a little bit shocking. The second thing was that I realized government wasn't quite as idealistic as I thought it was." That's when she turned to the idea of business school. She applied only to Vanderbilt so that should could spend the next two years with Michael as he finished law school. "I was really lucky to get in because otherwise I wasn't quite sure what I'd do after I graduated," she says.
From the beginning, Friedman was hooked on business school, joining numerous clubs focused on many of the same types of international topics she studied as an undergraduate. And with the small class size, she was able to get to know fellow classmates and faculty members. "Business school just clicked with me right away," Friedman says. "I felt like Owen was the first time I went to school every day and loved everything I was learning. It felt very different from college, where it was important to put yourself in uncomfortable situations—taking classes that were interesting but outside of your comfort zone and figuring out what you like." She also found the amount of group work to be surprising. "But the tools I learned
while working in groups were extremely valuable and ones that I have applied to my career countless times over," she says. Friedman also stood out to her business school peers and professors. Maria Pugeda Connor, MBA'92, recalls meeting Friedman while working on a project for one of their marketing classes. The two soon discovered they both lived in the same apartment building (20th and Grand) and have been friends ever since. "She's like a gentle giant. She has an enormous ability to get things done and be successful," says Connor, now an executive with Cox Automotive in Atlanta. "But unlike Nasdaq set the closing price of shares. It was an important project that needed to be done correctly with as little disruption as possible for Nasdaq-listed companies, brokers and investors. Because data played a big role in the shift, Friedman volunteered to take on the task. "Frankly, it was a very successful project," she says. "I think that project gave Bob [Greifeld] the confidence to say, 'I think you're really good at project management.' And a large part of corporate strategy is project management." Recognizing her potential, Greifeld named Friedman head of Nasdaq's corporate strategy in addition to her role leading the company's data division. While many of her new responsibilities fit comfortably into Friedman's wheelhouse, she also would now be in charge of acquiring other companies.
For that, she had to brush up on the finance skills she had learned at Owen, which included modeling companies to determine a fair price range at which to buy them. "That
was the big stretch for me," Friedman says. But it also increased her exposure to Nasdaq's financial and operational side, setting her up to take over as the company's chief financial officer in 2009. Two years later global private equity giant The Carlyle Group snatched Friedman away from Nasdaq to become its CFO. She then returned to Nasdaq as president in 2014, establishing her path to become CEO.
Riding the waves of change
Now that she's running Nasdaq, which has become a publicly traded company itself, listing more than 3,500 companies on its exchanges around the world, Friedman wants to build upon the company's roots as a technology innovator, exploring ways to improve how capital markets function for all the players involved. The key to doing that lies in its products.
Speaking at a Silicon Valley conference in April, Friedman told the entrepreneur heavy crowd: "We were, in fact, probably a very early fin-tech [financial technology] company. … We then grew into becoming more of an exchange company. I would argue today we've grown and matured again back into much more of a multinational financial technology company."
Friedman says she sees four interrelated technologies that will reshape markets and financial services going forward. The first is the continued rise of cloud computing, giving organizations the ability to access computing power and storage on demand. That in turn will help facilitate the second major wave she sees coming: machine intelligence.
"I think it changes the way people make investment decisions, how they access the markets, and it allows us to give our clients much more sophisticated capabilities," Friedman says. Layered onto both of these area will be quantum computing, which is poise to offer market participants unprecedented processing capacity to model various business outcomes in real time, leading to quicker and more advanced decision-making.
The fourth area that likely will have a significant impact on the financial services industry lies with the blockchain. This is a robust record-keeping system—a secure digital ledger, essentially—that is best known for powering the cryptocurrency Bitcoin. While Bitcoin itself doesn't enjoy a pristine reputation, blockchain technology is already being explored and used by industries ranging from health care to banking.
"Many of the biggest payment-processing firms and banks are creating this concept of a digital currency that allows for them to
transfer cash, create digital cash, and then transfer that money through a new mechanism," Friedman explains. When that same technology is applied to recording market
transactions, she says, it could streamline many back-office functions.
One key example involves issuing equity to employees at privately held startup companies. Today people still get a physical certificate of ownership—but the blockchain makes all of that electronic, Friedman says "allowing you to keep a perfect record of ownership."
As futuristic as Friedman may sound at times, the premise underlying her plans for the company really harken back in some ways to the four P's she learned in business school. In other words, she looks at Nasdaq as she has since the time she graduated from Vanderbilt—as a products company.
"You own your own destiny" as a product manager, Friedman says. "And within a company like Nasdaq that's a great way to help bring the business forward."