Whenever a business or organizational leader comes to campus, whether as part of the student run Distinguished Speaker Series or simply to meet with students and faculty, Dean Eric Johnson always has one favor to ask: Sit down for a 10-minute video interview. This idea stemmed from Johnson's wish to capture snapshots of leadership challenges people in the working world are facing—and what key lessons they're drawing on to solve them.
The full video interviews with Young reside on Owen's website, but Vanderbilt Business wanted to share some of the highlights from these conversations with the wider alumni readership: vu.edu/owen-interviews.
The industry has changed so much. What are some of the things you have focused on with that change?
The demographics of the country are changing. The baby boomers have worked so hard to save and accumulate wealth. Investors have looked for "right-sized" solutions in asset allocations in a general sense, by using target date funds and letting other people manage their portfolio allocations. That's been an important strategy for wealth creation. But now baby boomers want more certainty as they are entering and approaching retirement. The questions are more personal—when should I retire? Do I have enough money to retire? The shift is from a one-size fits-most strategy to "give me the size that fits me." That's the shift to personalization in the investment industry. We expect to see more of that over the next decade. We are going to see the expectation that we provide more and more personalization, and by the way, do it at a cheaper and cheaper cost.
Tell me more about your role with the global asset allocation organization at Fidelity. What did you learn in getting your MBA that prepared you for your work today?
At its core, global asset allocation is combining strategies and different asset classes together. You have a lot of different portfolio managers, and you combine them together. When you are running an asset allocation strategy, you have to think about the team orientation to build the strategy that delivers the right risk and return profiles. I attribute that focus to my time here at Owen, where there is so much emphasis on teams. I think about how do you build a team, how do you make it better and stronger? When your team members are strong, they pull up the whole group. I saw that with the teams at Owen. You knew you had to pull your weight, and your team members did the same. I want teams where everyone thinks "I want to make the team stronger, I want to build my partners up." That's what I love about what I do at Fidelity. I take the principles that I learned at Owen and overlay them on my business.
One of the greatest pleasures of meeting leaders like you is asking them to share one of their most important leadership ideas or principles. What are some basic principles that are applicable to everyone?
Here's five principles of leadership that can apply to any industry: Integrity. Client-centric. Creativity and nonconformity. Accountability. Finally, have fun.
Integrity: There's no time in the investment industry's history that it's been more important to have integrity. It's other people's money, and they have to trust us. Your integrity has to shine through in everything you do. When people give you their money, that represents a huge level of trust.
Client-centric: You can't solve people's challenges unless you talk to them and understand their challenges. That allows you to build solutions that help them. You can't do that without listening.
Creativity and nonconformity: This is about innovation. Historically, for example, fixed income investments have been a great asset class for risk and return tradeoffs in diversified portfolios, with a better risk profile than equities. The question is—will that continue? How do we continue to provide that risk and return stability in asset allocation strategies as the market changes? Innovation is going to continue to be the competitive advantage. The amount of money chasing new ideas creates a lot of opportunity in most all industries, and asset management is not an exception.
Accountability: What gets measured gets managed. People love to be held accountable and rewarded. They earn respect, and it provides personal satisfaction.
Have fun: Life is too short. You should have more good days than bad days at work, and you should love what you do. I love teams that are cohesive enough to build friendships. I think that's the ultimate measure of success as a manager—that you build management teams that are close. If they are close, they trust each other, and they can have candid conversations that make them successful.
Lieutenant General Ronald L. Bailey, Deputy Commandant of Plans, Policies and Operations for the U.S. Marines.
"I've been in the Marines for 40 years, and some things have changed, but our leadership foundation is solid. We make sure that everyone understands the legacy of the Marine Corps. It helps us hold the line and maintain our edge. But millennials think differently, and that's for the better. The value is when you take all that expertise and combine it with ideas. It's a recipe for success. We've observed at companies like Amazon and Google, too, and use that information to take a comprehensive look at what we're doing. We have to be able to adapt, and ideas to do that come from the top and the bottom."

Paul Connelly, Vice President and Chief Information Security Officer of Hospital Corporation of America
"I try to not sound like the prophet of doom, but the stakes have never been higher for the data that we create. Ten years ago, it was viruses and worms. Then it was stealing personal data, and 2016 was the year of ransomware. What's coming next are attacks to shut down our operations. We defend against that by making our staff savvy, by raising the bar so we can defend against a threat. We are constantly working with all other parts of the organization—our doctors, our nurses—helping people understand and become advocates. We are leading through influence, asking 'how are we together going to solve this problem?'"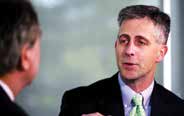 Charles Lebo, Vice President and Chief Information Security Officer of Kindred Healthcare
"The sheer amount of data concerns me. We have increasing requirements to retain data, and the amount just keeps growing and growing. If we have to store it, we have to protect it. We're trying to protect all of it and determine what we can get rid of. Think about it—if a bad guy gets into your system, he can steal your data. But if you don't have the data—if you've deleted it—he can't steal it. I'm also concerned about the increase in linkages between systems—our data support systems. How do we protect not just our data center, but also protect the companies that support us?"

Rick Moss, Chief Financial Officer of HanesBrands
"Early in my career, I was a banker here in Nashville. One of my young product managers had developed an annual product plan. I went through it and marked it up and gave it back to her, and she wasn't expecting that. I looked back at my changes and saw that I wasn't correcting her errors, I was writing it the way I would have written it. I realized my job as her boss was to develop the talents inside of her, and not try to make her do things the way I would do it. I've tried to remember that lesson as I've developed young talent. Let them be their best selves."

Jose Munoz, Chairman of Nissan North America and Executive Vice President of parent company Nissan Motor Co.
"When you work in so many countries, it can be a challenge to get people to follow you. But if you want to have impact, you can't do it by yourself. No matter how smart you are, no matter how hard you work, you cannot deliver results without a team around you that understands what they need to do, not only when they are with you, but when you are not there. In my case, I like very much to work with a team and lead by example. You will rarely see me alone. I work with all levels of the organization. I want to know the root causes. So I go to the dealership, I talk with the customer, the technician, the salesperson and then share that information with engineering."