Morsches and Rock-Blake (both MBA'18) receive $25,000 for housing services and invasive species certification concepts, respectively
By Nathaniel Luce
Two more Vanderbilt entrepreneurs have earned Sohr Grants in the spring application round.
Second-year MBA students Patrick Morsches, co-founder of Let's Room Together, and Rachel Rock-Blake, founder of Green Anchor, have each earned $25,000 to be put toward their respective ventures. All told, the Center for Entrepreneurship (C4E) has bestowed three Sohr Grants this academic year — fintech startup Leaf earned a grant in the fall.
Both students have been developing, refining, and pitching their concepts throughout their two years at Owen, winning several grants and awards along the way.
Morsches, who launched Let's Room Together at the very beginning of his first year, took 1st place and $1,000 at last spring's Owen Venture Challenge (OVC) before earning a $15,000 Summer Grant to build out his business. Rock-Blake took 3rd place and $360 at the OVC and earned a Summer Grant as well. Both students have pitched in previous Sohr Grant competitions.

Let's Room Together offers incoming graduate students a platform to connect with classmates, find roommates, and plan the transition to school. The company has already attracted several graduate program clients and generated revenue, "which is rare to be doing before graduation," says Michael Bryant, Director of the Center for Entrepreneurship (C4E) at Vanderbilt Business.
With the help of a business partner in North Carolina, Morsches has been able to bring Let's Room Together into 45 graduate school programs. He plans to spend the grant money on trade events, including this year's GMAC Conference, as well as email and print marketing efforts targeted to program directors at graduate schools. "We're hitting them from all angles," he says.
Morsches describes winning the grant as "a huge relief," he says with a chuckle. "It's definitely helpful. I was going to do it full-time regardless, but this helps significantly cover a lot of the marketing costs.
"I've done 10 or 11 formal presentations," he adds, "so it felt great to finally win it."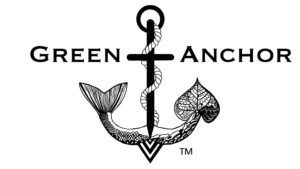 Green Anchor offers a certification to businesses that use invasive species in their products. Rock-Blake is initially directing her attention toward Asian Carp, a clean and eatable fish whose presence in the Mississippi River Watershed has dramatically affected large ecosystems in the U.S. Broadly, her certification standard is designed to raise the value of Green Anchor-certified products and open up markets to invasive species.
Rock-Blake will be using the funding to build out the user platform on her website, for their customers (restaurants and pet food manufacturers) and fisherman.
She'll also be using the funds to build brand recognition through social media and content marketing. "We're trying to create increase general awareness of what we're trying to do, so when we sell to companies, they can link themselves to our brand message and increase their customer usage of our products."
As she approaches graduation, Rock-Blake is building her pipeline of prospective pet food and restaurant customers. She's also working towards membership in ISEAL, a global association for sustainability standards — joining its ranks would earn Green Anchor significant credibility on a global scale.
For the trained biologist-turned-entrepreneur, the Sohr Grant "represents this peak achievement of entrepreneurship at Owen," she says. "I'm thrilled to have achieved this level of success at Owen, but more important than that is the progress I've made because of the pitches I've done."
Both Rock-Blake and Morsches credited Vanderbilt's cycle of grant opportunities, pitch competitions, and FireStarter events with giving them the practice and input they needed to form viable and compelling business opportunities.
"Getting the feedback each time (during the grant presentations) really helped us develop the business, and helped us better understand what we were doing and be able to convey it in an easy-to-understand manner," Morsches said.
"The whole entrepreneurship program has been so helpful. Let's Room Together definitely wouldn't be where it is without all the stuff I got here at Owen."
Learn more about entrepreneurship at Vanderbilt by visiting the C4E's website.