What underrepresented minorities should know about applying to business school, from professional associations to scholarships to student clubs
By Nathaniel Luce
Under-represented minorities (URMs) — a group traditionally comprising of African Americans, American Indians/Alaskan Natives, Native Hawaiians/Other Pacific Islanders, and Latinxs — currently make up 30% of the U.S. population and are projected to account for more than 40% by 2050.
Business schools, eager to provide opportunity and build diverse student bodies and communities, are extremely deliberate in their pursuit of URM candidates, offering a variety of tools and support to attract a diverse pool of applicants. Moreover, there are many school-agnostic resources available through independent organizations.
We spoke with Ashley Lomax, Assistant Director of Recruiting and Admissions and Lead Diversity Recruiter, to learn more about the recruiting process for URM candidates and came away with five things prospective minority candidates should know.
Get involved in support organizations.
You can get support for your business school journey long before you narrow down your list of potential schools. Several organizations work with URM candidates at various points in their education and careers, offering mentorship, training, and resources to pursue fulfilling work and become future leaders.
For example, Management Leadership for Tomorrow (MLT) works with minorities ranging from undergraduate students to mid-career professionals. The "early career" programs — MBA Prep and MBA Professional Development — are most relevant to prospective b-school students. With these programs, MLT provides help with GMAT preparation, school interviews, career searches, and more. The programs, which start a year ahead of a prospective student's recruiting period, provide unmatched levels of preparation for business school, the job search, and professional life thereafter.
MLT is just one of many organizations that offers resources for URMs pursuing a business education. The National Black MBA Association and Prospanica provide access to scholarships, employment opportunities, professional development, and a vast network of business professionals. "(These organizations) are definitely good options for underrepresented students to take advantage of," Lomax said.
Connect with current students.
Once they've narrowed down their list of schools, most prospective students' first instinct is to ask admissions officers at those schools about what resources are available for minorities. Lomax says that candidates should definitely inquire about this, but they shouldn't stop there: Prospective students often learn just as much, if not more, from talking to current students. In fact, admissions officers may volunteer to connect candidates with current students for that very reason.
"Admissions counselors and representatives can give a good range of information, but I think sometimes you get the best experience and best understanding of a school by connecting with other students who may look like you or be like you," Lomax explained.
Go beyond the numbers.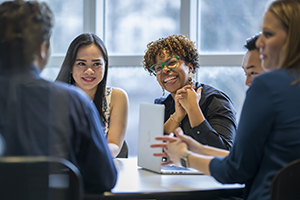 Many prospective candidates understandably focus on statistics such as the school's rankings, how many Fortune 500 companies hire graduates, and what percentage of the student body identifies as a URM. Many schools also talk these elements up in their marketing and on their websites as well, putting even more of a focus on the numbers.
However, these statistics don't always reflect what the student body culture is like and how well that culture will fit a prospective applicant, especially those who identify with a minority group. "Rankings are great, but they aren't necessarily the biggest indicator of how the school will make you feel valued," Lomax said. "Aside from connecting with current students, really ask those questions (like) what makes your program unique? What is the culture and feel of the school?"
"Everyone's got to post their average employee salary, everyone's going to talk about the top different companies," she continued. "But really see who's really going to be invested in you as an individual."
Consider the entire university.
Most prospective students will likely be focused on what resources the business school specifically provides, at least to start out. During the search process, Lomax say that it's also important to keep in mind that the university at large might offer additional resources that business school students can leverage. For example, the Vanderbilt Business School has the Owen Black Students Association (OBSA), but b-school students can also get involved in programming at the Black Cultural Center, which is open to the entire school.
"I see that (prospective students) are often interested in the bigger Vanderbilt community or the bigger university community, not just the business school," Lomax said. "When you're looking, see what type of organizations and clubs the school has that's going to support you when you're there… even their partnerships with other outside organizations are going to be pretty valuable."
Seek out clear signs of diversity and inclusion.
As a final word of advice, Lomax says that URM candidates looking for schools that welcome diversity should seek out signs that the school embraces people's entire identities. Some specific examples might include incorporating diversity and inclusivity (D&I) topics or cases into the curriculum and offering opportunities for D&I student involvement. While these high-level factors don't capture the whole picture, they can be helpful in weeding out certain schools that don't have an active commitment to diversity.
"Really try to find a school that allows you to be who you are and bring your whole self to the school," Lomax said. "Picking a school that has a vision for diversity and inclusion not only at the university level, but also at the school level, and really advocates for students of any background — I think it's going to be important (for URM candidates)," Lomax said.