We cover transcripts, essays, and interviews in the second half of our international admissions guide
By Kara Sherrer
Last week, we talked with Kim Killingsworth, Director of International Recruiting & Relations at Vanderbilt Business, to get her advice for international applicants preparing to apply for MBA programs. This week, we continue our conversation with Killingsworth, offering her top tips for the application itself, including transcripts, essays, and interviews. (If you missed the first installment of this series, check it out here.)
You'll need to get your transcript translated, to an extent.
If your transcripts aren't in English already, you'll need to get them translated by a certified translator (not just an acquaintance who speaks English really well). However, don't convert the actual numbers into a U.S. system — the admissions officers will take care of that for you. "I'm used to evaluating transcripts from all over the world, so I know what a 10, for example, from Colombia means versus a 4 in the U.S.," Killingsworth said.
You might also need to get your recommendation letters translated.
For international applicants, it can take a while to get recommendation letters completed since the recommenders may not be familiar with writing in English or following the Western recommendation letter format. If necessary, recommenders can write in their native language and then get a certified translator (again, not an acquaintance) to translate the letter afterwards. Bear in mind that this translation step can add extra time to the process; Killingsworth suggests that international students ask their recommenders to write a letter at least two months in advance, if not more.
Write your own essays — but not your own rec letters.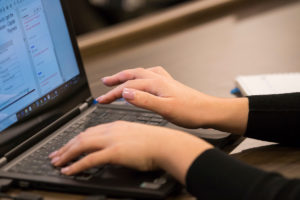 Admissions officers compare the written essays and recommendation letters to the written portion of the GMAT or GRE to look for similarities and discrepancies. If the essays and the exam appear to be written by different people, that's a red flag; the committee will also notice if the essays and the letters of recommendation appear to be written by the same person. In other words, don't write your own recommendation letters, but do write your own essays. (Although it is a good idea to have a native English speaker proofread the essays after you have written them.) "We're looking for them to tell their story, and it needs to be in their own voice. If candidates are getting someone else to write it, it's not authentic and it's not their true voice," Killingsworth said.
Don't stress too much about the video essay.
Both domestic and international students alike can be intimidated by the video essay, which is relatively common in business school applications. The video essay requires you to record a short (~90 second) response to a random icebreaker question, such as "If I were visiting you in your home city, where would you take me to dinner and why?" The video is designed to be a fun way to get applicants to demonstrate language skills and self-confidence, both very necessary skills for MBA job seekers. "We're looking for them to be spontaneous," Killingsworth said. "They're not really difficult questions either. They're fun questions."
You'll probably have a video interview.
"We don't expect everybody to be able to come to campus, international or domestic…We know that not everyone can get a visa to come over, or that the cost is prohibitive," Killingsworth said. Most international students conduct their interviews via video conferencing software, and usually schools weigh video interviews equally with in-person interviews, at least for geographically distant candidates.
Practice for the interview.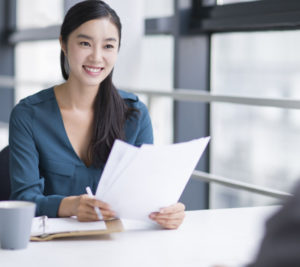 Killingsworth recommends that applicants practice interviewing with colleagues and friends so they will feel comfortable and sound natural when talking with admissions officers — the interview is supposed to be a conversation, not a recitation of a mental script. International applicants will usually be asked the same questions as domestic candidates, so you should be ready to tell the story of your work experience and articulate your transferable skills and short-term career goals.
Prepare the room (and yourself) before the call.
Always do a test run and make sure the connection works before it's actually time for the video interview. Being fully dressed is also a top priority: "Someone will get up to adjust the camera or something, and they'll only be wearing boxer shorts below," Killingsworth said with a shake of her head.
She also stresses that applicants should clean the room and ensure that there are no distractions in the background, recalling one bedroom that "looked like a youth hostel where someone's backpack had exploded," as she put it. Needless to say, these behaviors do not make a good impression on an admissions officer, so do yourself a favor and make sure your environment, dress, and behavior are all professional.
Now that you've submitted your application and conducted your admissions interview, it's time to wait for a decision — good luck!
Want to learn more about getting an MBA at Vanderbilt Business? Visit the program page or request more information.