Learn how international applicants should prepare to apply to MBA programs in the first part of our guide
By Kara Sherrer
No matter where you come from, applying to business school takes a lot of preparation, and this is doubly true for international students. We sat down with Kim Killingsworth, Director of International Recruiting & Relations at Vanderbilt Business, to find out what international students need to know about applying to MBA programs. Part 1 of the guide (below) covers preparation for the admissions process, while part 2 includes tips for the application itself.
Give yourself plenty of time to apply.
"For international applicants, I find that it often can take about two years of prep time from when I meet potential applicants (to when they apply)," Killingsworth said. This is partly due to the entrance exams: Admissions reps recommend at least 100 total hours of prep work for the GMAT or the GRE, as well as the IELTS or TOEFL, and it may take more time for international applicants if they're not used to standardized tests.
Many applicants, whether international or domestic, also find they need to take the GMAT or GRE more than once to achieve a competitive score. Killingsworth encourages international applicants to consult with her about the competitiveness of their score before applying if they are unsure.
Don't rush your application to meet an earlier deadline.
It can be tempting to push yourself to submit at the earliest possible application deadline — after all, then you'll get an answer sooner. But you can only submit once, so if you're unsure about any aspects of your application, you should wait to apply until the next round and give yourself a chance to improve your prospects. "I always say to applicants, don't apply early just for the sake of applying early, but wait until all aspects of the application are competitive," Killingsworth said.
That being said, take into consideration that there is a set pool of scholarship funds; as schools get into later rounds, there are fewer funds available. You will also need to leave plenty of time to secure your visa, so follow each school's guidelines on last recommended deadline for internationals.
It's usually okay if some application pieces are a couple days late.
At most business schools, it's fine with admissions officers if a certain part of your application — for example, a test score or a recommendation letter — trickles in after the deadline, as long as you submit everything else on time. However, the admissions team won't be able to move forward and make a decision about whether or not to grant you an interview until after everything has been received. "(Candidates) need to know that the application is considered incomplete until we have all pieces," Killingsworth affirmed. Waiting too long for your application to be complete could potentially move the application to the next round, so be on top of this.
You might have to take a language exam in addition to the GMAT or GRE.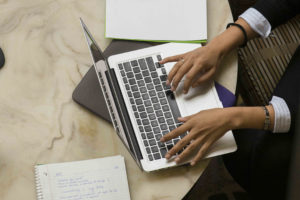 Depending on your situation, you might need to take a language exam — usually the Test of English as a Foreign Language (TOEFL) or the International English Language Testing System (IELTS) — to complete your application. Check with each school to see if you are exempt: For example, Vanderbilt Business exempts international students from its language exam requirements if they're coming from a country where English is an official language, or if they completed an undergraduate degree and/or worked in the U.S. for at least two years prior to applying.
Language and entrance exams are not the same thing.
The TOEFL or the IELTS can't be substituted for the GMAT or GRE, and vice versa, as the two types of tests have two completely different purposes. The TOEFL and IELTS are designed to test English language skills, while the GMAT and GRE score quantitative skills and verbal reasoning. If you're not exempt from language exam, you'll need to take both a language and an entrance exam and submit a score for each; you can't substitute one for the other.
Reach out to current students and alumni to learn more.
In the U.S., it's acceptable and even encouraged for prospective students to reach out to current students and alumni to learn what life at the school is like. Some schools even have programs like the Recruiting & Admissions Fellows at Vanderbilt Business, where current students actively volunteer to talk with prospective students. Current students can speak to what the program and life in the city is like, but they shouldn't be expected to give advice on the application. "The Fellows are not meant to be proofreading essays, for example," Killingsworth cautioned, and says the same goes for any alumni applicants may reach out to via LinkedIn. "We want you to get to know the program as best you can through our current students or through alumni."
Read the website first — then reach out to your admissions officer.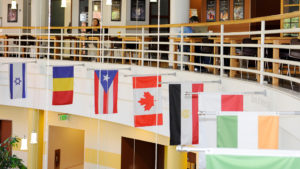 International admissions officers do a lot of coaching throughout the application process, and it's perfectly fine to reach out to them if you have a question. However, before you hit send on that email, you should thoroughly read over the school's website and any other resources the school offers to see if those answer your question. Many business schools provide lots of application resources for international applicants, and prospective students create a bad impression when they clearly haven't read over the materials already offered by the school.
Think from an admissions officer's point of view.
Applying to business school is a little bit different from applying to other graduate schools, since the admissions committee will be evaluating you from the point of view of an employer, not just an admissions officer. As you start putting together your application, look at yourself from the perspective of an admissions officer and think about what qualities they might want to see. "Admissions officers (for business schools) are always looking at you with the eyes of recruiters. How is this person going to stack up in front of recruiters? Is this somebody I feel good about putting in front of recruiters?" Killingsworth said.
Leadership experience doesn't have to be a managerial role.
You'll be asked to give examples of times when you showed leadership during the essays or the interview (and sometimes both). As you start collecting potential examples to include, remember that admissions committees don't necessarily expect you to have had a managerial role, and that leadership can take a lot of forms beyond official titles. "Often, leadership will get misinterpreted as them having to be in a managerial role. We're just looking for those who have been exposed to leadership through any type of role," Killingsworth said.
There is no one true perfect candidate.
Very few factors will get you automatically accepted at top business schools, even if you have great test scores and a solid work history. By the same token, you won't necessarily be precluded by certain factors (such as a non-traditional work background) either. As Killingsworth put it, "We're not looking for a particular profile. There's no magic formula."
Want to learn more about getting an MBA at Vanderbilt Business? Visit the program page or request more information.