Employment data for the Class of 2018 and internship data for the Class of 2019 are now available
By Kara Sherrer
Class of 2018 graduates from the full-time MBA program at Vanderbilt's Owen Graduate School of Management reported average base salary earnings of $111,168, with an average signing/starting bonus of $26,415. Median base salary was $110,000 and the median signing bonus was $25,000.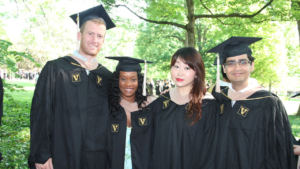 Consulting was the most common job function, with 29% of graduates accepting a consulting role. Other popular functions included finance (22%), marketing (18%), general management (14%), operations management (6%), and human resources (5%). Consulting was also the most popular industry, with a quarter of graduates accepting jobs at consulting firms, followed by healthcare (21%), financial services (13%) and technology (13%).
"We are very grateful to work with a fantastic group of recruiting partners who provide a wide range of opportunities for our students," said Emily Anderson, Director of the Career Management Center.
By commencement in mid-May, 79% of graduates had received at least one offer and 75% had accepted. Those numbers rose to 92% for offers and 90% for acceptances three months after graduation in August 2018. Approximately half of 2018 graduates accepted jobs in the Southeast United States, while others moved to the West (18%), the Northeast (13%), the Southwest (7%) and Midwest (7%), and the Mid-Atlantic (3%). Two percent of the Class of 2018 accepted jobs outside the U.S.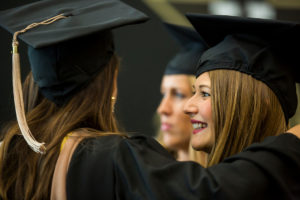 For the seventh year in a row, 100% of first-year MBA students seeking summer internships received an offer. Members of the Class of 2019 spent 10 to 12 weeks immersing themselves in a variety of different industries, including financial services (20%), health care (17%), technology (17%) and consulting (11%). All told, more than 150 companies hired members of the Classes of 2018 and 2019.
Anderson recognizes Owen alumni for their help throughout the recruiting process. "We cannot thank the dedicated Owen alumni enough for their continued support of our current students and their willingness to maintain recruiting relations with their employers," she said. "We look forward to continuing these wonderful relationships."
A summary of this year's MBA employment and internship report may be viewed here.
Want to see your compensation reach these levels? Click here to apply to the MBA program.