James Forbes came to speak at Vanderbilt Business as part of the Distinguished Speaker Series
By Heream Yang
James Forbes is a Managing Director and Vice Chairman of UBS Group, Americas. UBS is the largest Swiss bank in the world and has offices in over 50 countries, managing over $2 trillion in assets. Before joining UBS, Forbes served as the Head of Global Principal Investments at Bank of America and the Global Head of Healthcare Investment Banking at Merrill Lynch.
Forbes came to speak at Vanderbilt Business a few weeks ago as part of the Distinguished Speakers Series (DSS). DSS is a student-run initiative that regularly brings in high-profile speakers to share their business insights at Vanderbilt. Past speakers include Lynn Good, CEO of Duke Energy; Anu Aiyengar (MBA'99), Head of M&A North America at J.P Morgan; and Reese Witherspoon, Oscar award-winning actress and founder of Draper James. Hosted by Dean Eric Johnson, the talks are open to all students, faculty, and staff at Vanderbilt.
During his talk, Forbes presented a crash course on leveraged buyouts, along with key insights as a leader in the finance industry. Here are Forbes's top three tips for aspiring business leaders:
Stay current on industry research.
In the spring of 2006, Forbes, then Global Head of Healthcare Investment Banking at Merrill Lynch, was browsing industry research reports when he stumbled across an article that inspired the solution to a dilemma one of his clients was facing. Hospital Corporation of America (HCA) had gone public in 1988, and since then, its stocks had reached a plateau of around $45 to $50 in 2004. While the company attempted to raise stock prices by employing the standard strategies for kickstarting stagnant stock, it found itself at a standstill until Forbes presented a radical solution: going private.
At first, Forbes's idea was met with plenty of skepticism. Going private would require raising $28 billion of debt and $6 billion of equity, a rather hefty sum. However, Forbes was determined to see his proposal through and eventually convinced Bain Capital, KKR, Merrill Lynch, and the Frist family (who put most of their family wealth on the line) to complete a $33 billion buyout. Forbes's intuition proved timely, with the four buyout firms ultimately reaping five times their original investment. However, all this would not have been possible if Forbes had not gotten the idea from an industry report he was reading — something he encourages everyone, especially young professionals in the first two years of their careers, to do.
"As you start a position… read reports about the industry," Forbes said. "Really dig into your industry, understand the dynamics and what outsider views of the industry are and what they think of your company, and what they think of competitor companies."
Focus on long-term growth.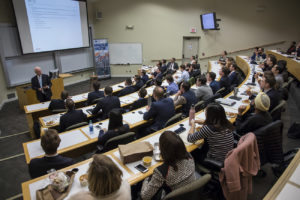 According to Forbes, the focus on investing in America has shifted from long-term plans to short-term results. "The American capital market and now European capital markets have been very short-term oriented," Forbes explained. "It's all about what did you do for me lately, what's the latest report, what's the latest share. No one takes the three-year, five-year overarching focus…Very few companies have that focus to get there."
With companies so laser-focused on short-term reports, many businesses neglect to consider their overall growth and progress. "There's a lot of focus on quarter by quarter," Forbes said. "What does that matter overall in the life cycle of the company? Your cash flow is off by $2 million dollars (a minor amount for large corporations). That doesn't determine the long-term health of a company and the viability."
Keep leadership simple.
A business strategy many companies have embraced of late is going public. Some highly-anticipated IPOs for 2019 include big-name brands like Uber, Pinterest, Lyft, and Airbnb. While going public is an enticing way to raise capital, Forbes says that it also comes with major drawbacks to management that are worth careful consideration.
"You're taking a lot of arrows at the end of the day," Forbes said.  If you talked to, for example, Milton Johnson (who) is the outgoing CEO of HCA, and if you asked Milton candidly, 'Milton would you rather be public or private?', he would say private in a heartbeat. He had four shareholders: Bain, KKR, Merrill Lynch, and Tommy Frist… and he didn't have to do quarterly meeting calls. He didn't have to go to any investor conferences. Once every two months he'd have a board call or board meeting… It's much easier to run a company not focusing on public investors, focusing on quarter by quarter, day to day."
Want to become a business leader yourself? Learn more about the Leadership Development Program (LDP) at Vanderbilt Business.