The Professor of Marketing focuses on consumer decision making within the context of food
By Web Communications
This article was written by Randy Horick.
Professor Kelly Haws' list of publications — peer-reviewed articles, manuscripts in progress, books, and book chapters — runs to four pages, single-spaced. That level of scholarly output almost strains the descriptive bounds of the word prolific. But the Anne Marie and Thomas B. Walker, Jr. Professor of Marketing has done it all in under one decade.
With just a little scrutiny, it's easy to spot the common themes that run through much of Haws' research, which broadly involves marketing. It's about consumer behavior as it relates to food. Some of her favorite research, she says, "marries financial decision-making with healthy decision-making" — such as the widely held perception among consumers that healthy foods are more expensive than less healthy options, and the effect of "supersize pricing" on consumer choices. People, she says, tend "either to use finances as an excuse not to make healthy decisions or vice-versa."
As Haws describes it, "Much of my work relates to the fundamental idea of considering what you eat versus how much of it you eat. In general, people pay far more attention to what they eat than how much they eat. They're very interrelated. If you can get people to think about both the quantity of food and the type, you can affect patterns of behavior."
As she was beginning her academic career, Haws notes, much of the previously published research on food decision-making connected to marketing and the impact of various marketing efforts such as packaging and portion size on food choice. And much of that work examined choices of a single type of food at a single point in time. She cites a famous study in which participants chose between chocolate cake or fruit salad, with those choosing the fruit salad typically labeled as having more self-control or being healthier.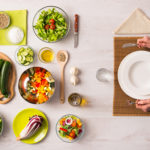 "Obviously, that's a very simplified view of food decision-making," Haws says. "The real world is a lot messier. However, food decision-making research often uses these single-choice scenarios to test a variety of potential changes in consumer responses because they are a lot easier to grapple with."
Although she has run her share of M&M versus apples studies, Haws prefers the "messier" route. "I've been trying to figure out different ways and different types of data to look at longer term decision patterns," she says.
And her interest goes beyond marketing — an interest she can trace to a thesis she wrote in high school about eating disorders. "First and foremost, what I think about when studying food decisions is consumer welfare," she says. "If you think about it from that perspective, you can back that into what companies that make and package food should care about. Public health agencies are also clearly concerned with understanding how consumers respond to different types of food-related information."
Stretching further beyond her core area of marketing, one of her articles on consumer behavior was published in the Journal of Preventive Medicine. And she's working with faculty in the Vanderbilt University School of Medicine to include questions on patient intake surveys that focus on long-term behavior issues related to exercise and nutrition to facilitate better conversations between physicians and patients.
Haws doesn't stand out just for the quality of her research, which has won honors from Vanderbilt, the Society for Consumer Psychology and the Association of Consumer Research. She also has won several awards for the quality of her instruction.
What's the secret of being a great teacher?
"I think bringing relevant insights from having a deep knowledge about the latest research is key," says Haws, who welcomed her fourth child in the summer of 2018. In the course on Consumer Analysis she teaches in the Vanderbilt MBA program, she says, "I've found that it's about getting students to see how what I teach directly benefits them as a consumer, as a manager, as an employee."
Toward that end, Haws creates opportunities in her classroom to identify students' own interests and incorporate them into the discussion. And that, in turn, can make students more interested in the ideas that Haws cares most about. "I try to bring passion and enthusiasm for the topic," she says. "I focus on how to make students as excited about the psychology of consumer decision-making as I possibly can. My hope it that this enthusiasm is contagious."