The Double Dore leveraged her Master of Marketing degree to network her way into luxury skincare brand Philosophy
By Heream Yang
Jocelin Clayton (MMark'18) grew up watching TV shows like Project Runway and The Hills that painted a glamorous picture of life in the fashion industry. A small-town girl from Alabaster, Alabama, Clayton secretly hoped to one day step into the heels of the women she admired. However, coming from a family deeply rooted in the medical field, she felt compelled to brush aside her passions in favor of a more traditional career in medicine, enrolling at Vanderbilt University as a premed student.
After taking several classes, Clayton quickly realized that medicine was not a good fit, and decided to major in Communication Studies instead. She was initially drawn to fashion journalism, working as a freelance fashion writer for The Tab, a digital college lifestyle publication. But as she dug deeper into the industry, Clayton noticed that print was going out of style and that her best chances of success lay with another sector of the fashion industry.
Fittingly, one of Clayton's favorite fashion shows, The Hills, first led her to fashion marketing. While watching the show, she noticed that the two of the girls were working for a fashion PR firm called People's Revolution. Clayton decided to reach out and see if there were any openings, ultimately landing a public relations internship.
While at People's Revolution, Clayton helped the company gear up for one of the most iconic fashion events in the world, New York Fashion Week, attending a total of seven fashion shows. "It was everything I could have ever imagined," Clayton said. "Growing up and seeing these people on magazine covers and seeing them on shows, I was aspiring to be in a big city with big lights, big dreams…. For me (Fashion Week) solidified that whatever I dreamed of, I could do."
The Business of Beauty
While convinced she wanted to pursue marketing, Clayton didn't know how to achieve that career. Having only been exposed to the public relations side of marketing, she wanted more knowledge and experience before launching her career. Fortunately, she found the perfect solution just across the street at the Master of Marketing program at Owen. "For me, the Master of Marketing (program) at Owen was the perfect natural step between not being sure of what I wanted to do and also not being ready (to start my career)," Clayton said.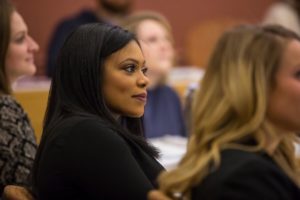 When she enrolled in the Master of Marketing program, Clayton decided to pivot from fashion marketing to beauty marketing. "At the time, fashion print was dying, fashion designers weren't doing well, retail wasn't really doing well, and I think that fashion and beauty have a lot more in common than meets the eye," Clayton said.
A self-proclaimed "product junkie," Clayton closely watched the product launches of popular brands like Kylie Cosmetics and KKW Beauty. In the process, she realized that she wanted to learn more about brand management, product development, and the process of creating fan-favorite products. As the job search process began, she looked for marketing roles at luxury beauty brands.
Had it not been for the Career Management Center (CMC) — and in particular Associate Director Megan Nichols — Clayton likely never would have found her current position at Coty, a global beauty company that manages beauty products for luxury brands like Gucci and Adidas. "Megan and the CMC immediately connected me with alum that were in the (beauty) industry, and even went as far as making sure I was invited to a small luncheon with a top executive in the industry," Clayton said. During the networking process, she spoke with several alumni working in Coty's LA office, and, encouraged by her interactions with the alumni, she interviewed for a position at the LA office. However, Clayton's dream was to work in New York, so she leveraged her connections to secure a position on the global marketing team at Philosophy, a luxury skincare brand managed by Coty out of the NYC office.
A Dream Come True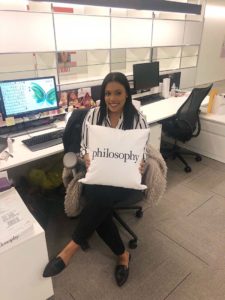 Clayton works with the Philosophy brand's global marketing team to develop and market innovative bath products. Her days consist of visiting fragrance houses to develop new scents, meeting with third party manufacturers to explore new bath product formats, and briefing cross-functional teams. "I'm on the innovation side of the brand," she explained.
While movies like The Devil Wears Prada paint a rather harsh picture of life in the fashion and beauty industries, Clayton has found the culture at Philosophy to be nothing but collaborative. "We're all very supportive of… the products we're excited for people to try and excited to launch," she said. "All of our cross-functional teams are super close-knit because we have to work so closely with each other all the time."
While Clayton doesn't deny the difficulty of breaking into the beauty industry, she encourages students to keep pursuing their goals even in the face of setbacks. "At one point at my time at Owen when I was recruiting and I felt like my résumé wasn't really getting anywhere, I was kind of getting down on myself and doubting whether this was the industry I was meant to be in," she recalled. "But I would just say, being where I am now, I don't regret any decision that I made and I'm glad that I held my head high because I knew this was the industry for me, and I'm 100% happy with how my time at Owen led me here."
Want to know more about the Master of Marketing at Vanderbilt Business? Visit the program page or request more information.