There isn't just one great career path with a marketing degree from Vanderbilt. You'll be positioned to start a career in a variety of industries and with companies ranging from international giants to entrepreneurial startups. And you'll be poised for a variety of positions that offer great potential for professional growth.
Social Media Analysts/Specialists manage social media accounts by implementing strategies and tactics to grow, engage and retain followers and convert them to leads. Social media analysts track and analyze metrics and integrate the best tools and practices on those platforms.
Advertising, Marketing and PR Agency opportunities include consulting and strategizing with clients and account executives to generate interest in a product or service. Marketers in this arena research and analyze clients' markets, including customer needs and attitudes, then present insights gained from this research to account leads.
Digital Marketers drive traffic to company websites, track conversion rates, utilize paid search, search engine optimization (SEO), oversee social media strategy and more.
Sales opportunities cross a wide array of industries. Many teams include a sales analyst to increase overall sales of a product. This primarily involves analyzing past sales data and market trends and then using those analyses to produce sales forecasts and strategies.
Consumer Insights/Market Research Analysts focus on understanding consumers in the marketplace by gathering and analyzing market data. Consumer insights/market research analysts often meet with the branding, advertising and business development departments to discuss crucial consumer data for making business decisions.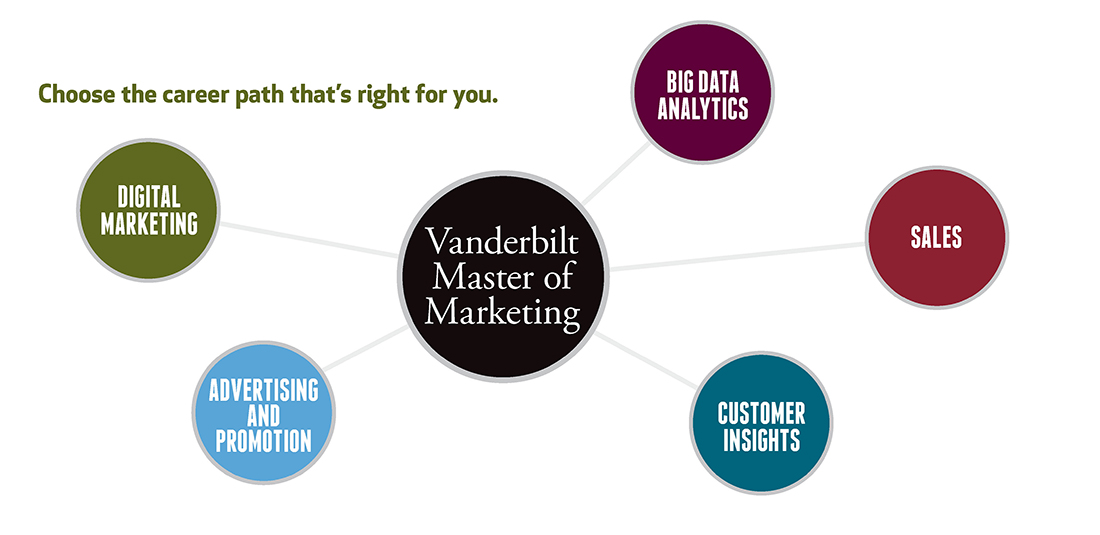 Hear From

Our Students
Hear from students who have been through the Vanderbilt Master of Marketing program. Discover why they chose this degree and how it has prepared them to succeed in the field of marketing.
Hear from students who have been through the Vanderbilt Master of Marketing program. Discover why they chose this degree and how it has prepared them to succeed in the field of marketing.
Throughout the 10-month program, you'll benefit from extensive training and resources at Vanderbilt, all focused on helping you achieve your goal: landing a great job after graduation.
An invaluable benefit of the Vanderbilt Master of Marketing program is the one-on-one support provided by your student services team, including a dedicated career coach who will be there for you at every step in your job search. With the help of your coach, you will consider career paths that best fit your skills and interests. Customize a job search plan. Identify companies in which you are interested. Learn to network. Hone your résumé, interviewing and negotiating skills. Gain access to some of the world's most prestigious companies with the help of our alumni network and other opportunities.
There's more.
Career development boot camp and workshops throughout the year
Peer coaching with second-year MBAs studying marketing
A combined marketing trek to visit marketing companies planned for 2018
Activities and events sponsored by the Vanderbilt Marketing Association
Networking events
Mock interviews
Online job postings
A Day in the Life Of A


Master of Marketing Student
"It's extremely rewarding to work with the Master of Marketing students to help guide them through the career search process. It's an amazing process to support them from start to finish through coaching and resources and watch them gain the skills to launch a fulfilling career."

Megan Nichols Associate Director  |  Master of Marketing Career Management Center
By the numbers
The way we approach career coaching and job search support in the Master of Marketing program.