Rene Casali (MBA'21) recounts her experience at the annual conference for incoming women MBA students, where she networked with companies and peers alike
By Web Communications
The Forté Foundation is an organization that brings together top business schools and companies to help launch women into fulfilling, significant careers. Each summer, Forté hosts a conference for incoming women MBAs enrolled at a sponsor school, including Vanderbilt Business; the 2019 event took place from June 28-29 in Chicago. Below, Rene Casali (MBA'21) recaps her experience at the conference.
Early this summer, I had the opportunity to attend the Forté MBA Women's Leadership Conference, along with fifteen fellow incoming MBA students from Vanderbilt Business. The conference crept up on me amidst travel and relaxation prior to starting my MBA journey, but it was well worth the hours of prep — and the two days spent with over 600 incoming female MBA students and many well-renowned companies.
While the conference was held at the end of June, preparation started in May as we had to polish our résumés and get them ready to submit to an application portal accessible to all companies at the conference. After several webinars hosted by the Career Management Center (CMC) and individual prep calls with a career coach, I felt much more confident about my résumé, elevator pitch, and what to expect going into the conference.
The Thursday night before the conference, Owen hosted a wonderful networking dinner for our conference attendees and Chicago-based alumni. This was a tremendous opportunity to get to know new peers and network with alumni, many of whom also joined us at the conference, representing their companies in either speaker or recruiter roles. The night put everyone more at ease going into the first day.
The conference itself was a "choose your own adventure" format. On Friday, we attended Career Insights and Industry Introduction sessions that most aligned with our interests. On Saturday, we participated in professional development workshop sessions on topics that ranged from negotiation tactics to personal branding to LinkedIn strategies. Each of these sessions left us feeling more inspired and energized than the last.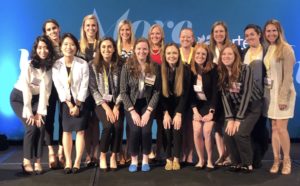 However, the most valuable part of the conference was the opportunity to network with company representatives and get a head start on the recruiting process. During the Career Expo and Networking Reception, we were able to explore summer internship and full-time opportunities with over 45 companies as well as network with conference attendees from other graduate schools. Throughout the two days, many of us were also invited to one-on-one coffee chats or company-hosted dinners, which provided a personal experience and even resulted in early interview offers for some of my classmates.
I truly didn't know what to expect when I registered for this conference, but the value I received is far greater than I could have imagined. I feel far more prepared going into my first year of the MBA program having a polished résumé, networking practice, and a leg up on recruiting. The support I received from the CMC and my female classmates before, during, and after this conference has assured me that Owen was the best decision I could have made. I cannot wait to see what is behind the other doors that Owen will open in the coming years. —Rene Casali