From career switching to networking building, discover five different answers to "why get an MBA?" — plus the top applicant personas the admissions office sees
By Jong Eun Jung
Many prospective students understandably focus on the post-business school salary boost. But Rob Schickler, Associate Director of Recruiting and Admissions for the Vanderbilt Business MBA program, says that the reasons to get an MBA are more complex than that. "We encourage students to look at the return on investment, not just in the short-term of the immediate salary boost you can get, but to think about the long-term success that having an advanced degree will set them up for the workplace," he said.
The MBA admissions team says that prospective students often see themselves in five different personas: the direction finder, the network builder, the career switcher, the promotion dreamer, and the jack of all trades. Each of the five has a different answer to "why should I get an MBA?" Read on below to find out which one resonates with you.
Direction Finder
If you're early in your career and haven't been exposed to the breadth of the business world, an MBA program can help you find your calling by introducing you to numerous opportunities in various different industries. "(Students are) not limited to just one path… they really have the ability to sample from the buffet and take classes in a lot of different areas," Schickler said. "And a lot of times students will find that there are other things that they are passionate about. They'll come in saying they want to study subject X, but then they'll have an internship or freelance work experience or take a class in a different subject and decide that they want to pursue Y professionally."
Network Builder
One of the most beneficial reasons to get an MBA is the networking opportunities. B-school introduces you to people from different backgrounds who offer different perspectives. Furthermore, at Vanderbilt Business School most of the projects are done in teams, so the collaborative culture allows students to get to know their classmates more closely. This helps you build a solid network for life after graduation. "Everyone knows that business is becoming more and more global," said Consuela Knox, Director of Admissions Operations and Diversity Recruiting Manager. "A company that's headquartered here in Nashville (often) has operations in New York or has operations abroad. If you have networks and all of these places around the world, then you're able to be more effective in your role… So the network is very vital."
Career Switcher
If you're a career switcher, the answer to "why get an MBA?" is "I want to make a change." And not just from one employer to another: You're contemplating a switch to a totally new career or industry, or perhaps even both. In this case, an MBA can be the bridge for switching careers, since it's difficult to apply to a job in a field that you have little-to-no experience in. "A lot of students who are looking to make career transitions find that getting an MBA (is) the best way to facilitate (a switch) versus just trying to cold apply for a job," Schickler said.
Promotion Dreamer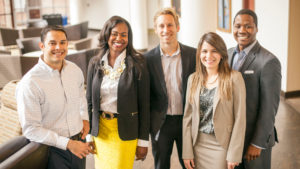 You might not be progressing as far as you want to in your career, but  getting an MBA can speed up the promotion timeline. That's because an MBA can help you gain the skills to level up to a new position faster than you would otherwise. "You're looking at your managers and seeing how those individuals are able to perform, or others in the organization, and you think, oh my goodness, I don't have the skills to do that. And you just go to school because you need to enhance your skillset," Knox said.
Jack of All Trades
If you want to build multiple competencies, an MBA can help you develop a well-rounded skillset. You won't be limited to one area of interest since you can take lots of electives to gain skills in different functions. "The MBA is a very versatile degree that sets someone up for success in a variety of roles," Knox said. "When you come to b-school, you broaden your focus in a lot of ways, because you pick up on all aspects of the business. So even if I'm going into some sort of position in marketing after school, I'll be able to talk about getting my projects funded, because I know how to speak finance. Or if I need to manage a team, I've taken HR courses, and I can staff a team as well."